D.C. police officers will begin testing body-worn cameras to record arrests and other interactions with the public, officials announced Wednesday.
Police Chief Cathy Lanier says the cameras will "establish a record of police conduct," as well as reduce officer injury and uses of force.
About 160 officers have volunteered for a pilot program in which they'll each try out five styles of camera.
DC officer Debra Domino wears a chest camera - police to launch pilot project. lots of details to be work out. pic.twitter.com/XAsWUGO7X8 — Tom Sherwood (@tomsherwood) September 24, 2014
Officers will turn on the cameras at the beginning of any interaction or call, and the camera will remain on during the entire incident or until the officer leaves the scene.
"This way, we have all the facts," Lanier said.
Recordings will be destroyed after 90 days if there is no investigation.
Reporter tries out DC police eyeglass camera. (photo thanks to Lateef Mangum). pic.twitter.com/N8iebOwTng — Tom Sherwood (@tomsherwood) September 24, 2014
Lanier said many complaints against police stem from a misunderstanding of police procedures. "We have two different people telling us two different stories.... We can't prove or disprove the allegations.... This helps us tremendously," she said.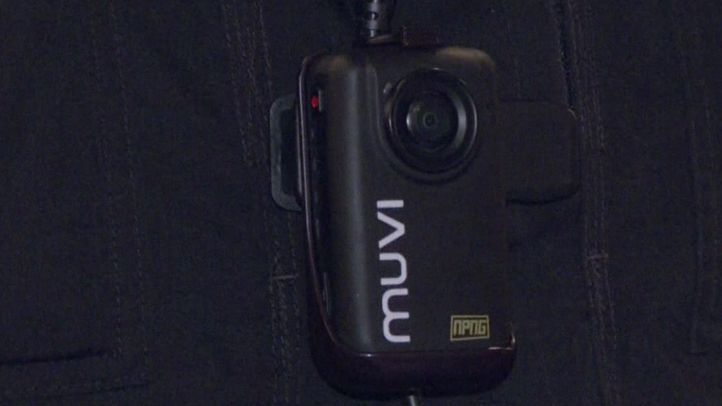 The police chief hopes the cameras will also reduce assaults on officers, cut workload and improve efficiency so authorities won't have to conduct lengthy investigations "based on four or five people's opinion on what happened."
"This gives us that independent, unbiased witness that will help us kind of sort through what is normal in a police investigation, a variety of different opinions from a variety of people," she said.
There will be some exceptions to recording, including anywhere there's a reasonable expectation of privacy, such as locker rooms or restrooms.
The cameras also won't be used to check in on officers. Lanier said the department believes that officers are doing what they're supposed to unless they hear otherwise.
"The point of the camera is to have a record if there's an inquiry or allegation..." she said.
The officers in the pilot program will try each camera style for comfort, ease of use, and positioning to consider what captures the best angle. Styles include collar-mounted, head-mounted and some to be worn on the shirt.
"We want them to actually use it in the environment they work in every day to decide which is best," Lanier said. For instance, officers may find that a shirt-mounted camera catches on a seat belt.
The officers who have volunteered for the program are "cautiously optimistic" on how easy it will be to use the cameras, she said.
They'll also have to consider ease of storage and charging, to see which cameras are best suited for long tours of duty and a rugged shift, Lanier said.
Lanier said they may select more than one kind of camera based on officers' preferences. The cameras may also vary for plain-clothes officers, she said.
Complete rollout will likely take two to three years, Lanier said.
"...[T]he body-worn cameras will enhance police work in our city, especially as our population is steadily growing...." said Mayor Vincent Gray on Wednesday.
Nationwide, some other police departments have also started outfitting officers with similar body-worn cameras. D.C. police have collaborated with other police departments as well as the American Civil Liberties Union, Lanier said.
The ACLU has expressed concern about how body cameras would affect people's right to privacy. But D.C. officials say they've also spoke with the police department in Laurel, Maryland, where officers turn off their cameras before entering private homes.
The police chief called the cameras a "big investment," one they've been working on for the past 18 months. "This is the last part of the evaluation for us," she said.
Right now, the District has $1 million in its budget for a pilot program. The six-month testing phase will begin Oct. 1.
Lanier has also told officers that citizens have the right to record them performing their official duties. Earlier this month, she said she was "shocked" to see video of an officer interfering with a man who stopped to record an arrest on a downtown street.
Copyright AP - Associated Press