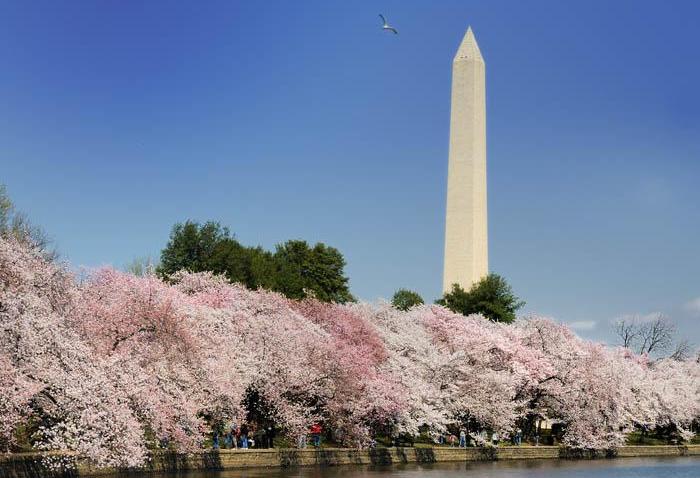 It's that time of year again, when a swath of the nation's capital becomes awash in a sea of pink.
The National Cherry Blossom Festival kicks off Saturday and runs through April 12, with more than a million visitors expected to stroll through the 3,700 cherry trees that circle Washington's Tidal Basin and participate in a slew of festival events. The peak bloom has been predicted from April 1 to April 4.
How do you get there? Where are the best blooms? Check out the maps: click here.
When you go, make sure you take lots of pictures and share them with us. Send your photos to isee@nbcwashington.com or click here to submit online. We'll compile the best photos and post them on our site.
Submit Your 2009 Cherry Blossom Photos Here!
Highlights of the festival include a chance to explore a floating tea house and design your own kirigami structure -- which is made of cut paper -- as well as see a performance by Japanese sensation Jerome White Jr., both on March 28.
On April 4, chefs from Washington and Maryland will roll their way through the first-ever SushiMasters competition on the East Coast. Founded by the California Rice Commission, contestants will create a sushi combination plate and then design their own signature roll. They'll have 22 minutes to do so and judges will score them on style, technical skills and originality.
During the festival, visitors may also enjoy boat rides on the Potomac River, photo safaris among the blossoms and cherry-inspired cocktails and dishes at area restaurants.
If you grow weary of crowds at the Tidal Basin, you may want to visit some blossoms elsewhere, such as at the National Arboretum. It offers a self-guided tour of the blossoms, which may be done on foot or by car.
The blossoms in Kensington, Md., are also outstanding. Some say they're even better than the ones at the Tidal Basin, and there is less hassle getting there to see them.
If You Go...

-- NATIONAL CHERRY BLOSSOM FESTIVAL: March 28 to April 12. Family day and opening ceremony March 28 at the National Building Museum. Annual cherry blossom parade starts at 10 a.m. April 4, followed by the Sakura Matsuri Japanese Street Festival, http://nationalcherryblossomfestival.org.
Cherry Blossom Events:

Saturday, April 4
Southwest Airlines presents the Parade of the National Cherry Blossom Festival (Event Info)
Sakura Matsuri - Japanese Street Festival (Event Info)

Sunday, April 5
Credit Union Cherry Blossom 10 Mile Run (Event Info)

Thursday, April 9
Gala Dinner Cruise aboard the Odyssey (Event Info)

Saturday, April 11
Fireworks Show (Event Info)


---
More To Do
D.C. has also opened a number of new or newly renovated attractions in the past year. Here are some highlights for you to consider exploring while in town for the Festival:
-- The National Museum of American History, which recently reopened after a two-year renovation. Free. Details at http://americanhistory.si.edu.
-- The new Capitol Visitor Center, an underground museum that's now the first stop for people touring Congress. Admission is free. Tours of the Capitol are limited to free timed-entry tickets that should be reserved in advance online at http://www.visitthecapitol.gov or through a congressional office.
-- A wax figure of first lady Michelle Obama will be unveiled April 7 at Madame Tussauds wax museum. Admission: $18 for adults, $12 for children. The museum also will hold special cherry blossom-related events. Details at http://www.madametussauds.com.
-- The story of a Japanese monster, samurai and a sake potion is told through brightly illustrated scrolls, screens and fans in "The Tale of Shuten Doji" exhibition at the Smithsonian's Arthur M. Sackler Gallery March 21 through Sept. 20. Visitors can also check out the Freer Gallery of Art, which features an exhibit by Japanese artists. Free. For details: http://www.asia.si.edu
-- The Lincoln Bicentennial Commission will pay tribute to Marian Anderson's landmark rendition of "My Country, 'Tis of Thee" on the steps of the Lincoln Memorial, where she sang in 1939 after a nearby concert hall turned her away because she was black. The tribute concert will take place at 3 p.m. on April 12 -- Easter Sunday -- at the Lincoln Memorial Plaza. It will feature world-renowned mezzo-soprano and D.C. native, Denyce Graves, the women's a cappella group Sweet Honey in the Rock, the Chicago Children's Choir and the U.S. Marine Band. Free. For details: http://www.abrahamlincoln200.org
-- The Ford's Theatre -- where Lincoln was assassinated in 1865 -- reopened in February after an extensive renovation. Visitors can take part in timed tours of the theater from 9 a.m. to 5 p.m. daily. Across the street, The Peterson House, where Lincoln died, is also open daily for tours. For ticket information, visit: http://www.fords.org.
Copyright AP - Associated Press