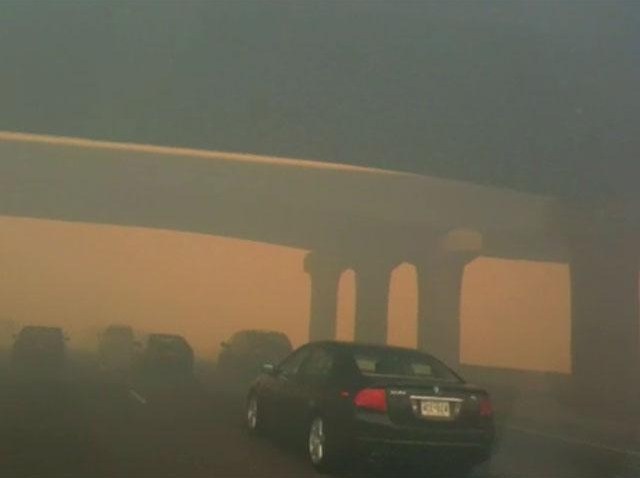 Wildfires fanned by gusting winds have ignited across the region.
In Prince George's County, off-duty firefighters have been recalled and put on alert. Early this morning, a blaze gutted a house where 3 University of Maryland students were staying. There were no injuries in the fire, but the building was completely destroyed.
Prince George's fire fighters are working to contain a blaze near Eagle Harbor, where 15 acres of open land are on fire, WTOP reports.
Fire units are also responding to a fire at a mulch plant in Laurel, where the fire is leaping between piles. Authorities estimate there are 100 30-foot high mulch piles at the facility. Both north and south bound lanes of Route 95 near Laurel have been closed as the fire has spread.
In Prince William County, southbound traffic on Route 95 has been diverted near Dale City. A fire started in a homeless encampment near the highway burned out of control and threatened traffic. Fire officials said the county has "depleted fire and rescue resources," after responding to numerous small blazes.
A fire in the Buckhall area has consumed 200 acres. Residences along Occoquan Forest Drive have been evacuated. The Buckhall Fire Station has been opened for displaced residents.
In Anne Arundel County, fire personnel have been battling brush fires throughout the day on Saturday. After subduing a three-alarm fire in the Harmon section of the county, crews are now responding to a five-alarm fire in the Odenton area. Officials there say 100 firefighters are on the scene.
In Germantown, Md., authorities said brush fires that had been burning wildly are now largely under control.
Homeowners joined firefighters to protect their houses and control the blaze. Residents wet down their backyards with garden hoses to keep the fire at bay.
"It's like a small scaleCalifornia
forest fire," wrote Kevin McGowan early in the day. "The fire is surrounding our community and is creeping into people's back yards."
Three to four houses were damaged by fire, and no injuries were reported.
Stay with NBC 4 for more updates as this story develops.