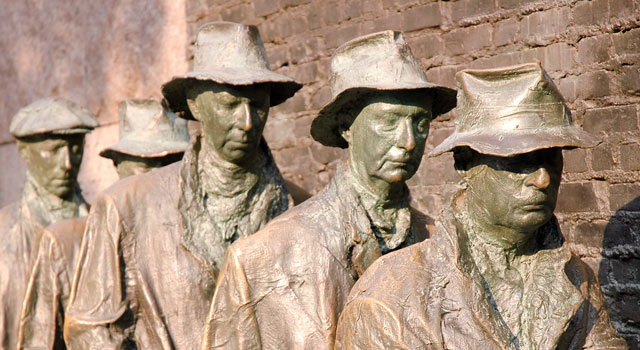 WASHINGTON -- Hitting their highest levels in more than 10 years, unemployment rates in the Washington region went up again in January, according to figures released by the U.S. Bureau of Labor Statistics on Wednesday.
The District's jobless rate rose to 9.3 percent in January, up from 8.2 percent in December, the highest level since the 1980s.
Virginia's January unemployment rate was 6 percent, up from 5 percent the previous month, the highest since 1992. Maryland's rate was up to 6.2 percent, from 5.4 percent, the highest since 1993.
According to the Office of the Chief Financial Officer, Washington's increase put the city's unemployment rate on pace to top 10 percent late this year or early in 2010.
Some 10,000 jobs have been lost since January 2008 in professional services, transportation, utilities and other trades, according to a report by the D.C. Department of Employment Services.
"It's a major concern," said Robert Ebel, Washington's chief economist. "We're worried about an accelerating effect."
D.C. officials expected the job loss and 9.4 percent unemployment for January last year, Fitzroy Lee, director of revenue estimation, said. "We've already built the impact into our revenue estimate," Lee said.
Ebel and Lee said the city's jobless rate could exceed 11 percent in late 2010, a high not seen since December 1983.
"I don't know that ... we've hit bottom," Lee said. "We have the unemployment rate going up to 11.5 next year. It's in line with other major urban areas. It means a lot of people are losing jobs."
In Virginia, the unemployment rate was also expected to keep rising, albeit slowly.
"It will probably go over 6 percent," said William F. Mezger, chief economist for the Virginia Employment Commission. "We don't think it will go up a whole bunch above that. In the summer it will be high when the students are out of school, and it should drop again toward the end of the year."
In Maryland, Andy Moser, assistant secretary for labor, licensing and regulation, said the unemployment rate is "the highest I've seen. I've been on the job for 10 years."
The state's unemployment rate rose to 6.8 percent in 1993 and went up to 8.7 percent a decade before that, after the 1981 recession. Moser said Maryland had no estimate for how high the unemployment rate might go. "Obviously we're part of the national economy," he said. "We're not on an island."
Maryland lost workers in construction, manufacturing and retail as consumers stopped spending. "You have to look at the state number in relation to the national number. Compare us to Pennsylvania, which is 7 percent," Moser said.

Copyright AP - Associated Press