What to Know
D.C. government surveys show high school students reported a nearly 3 percent increase in electronic bullying since 2012.
Bullying on social media and through electronic devices was more frequently reported by LGBT students in DC.
Area school districts offer guidance online for parents with concerns about bullying.
Washington, D.C.-area high school students are as likely to be bullied electronically as they are to face bullies in the school buildings, according to a review of more than a dozen school and health department surveys conducted by the News4 I-Team.
The number of students who acknowledged being bullied electronically matched the number of kids who said they were bullied in school buildings, according to state health surveys in Maryland and Virginia. In Arlington County and Montgomery County, the numbers were nearly identical, according to the most recent surveys provided to the I-Team.
A 2017 presentation by a youth commission to the Loudoun County Board of Supervisors specified cyberbullying as a growing threat in the county.
"Cyberbullying in particular needs to be addressed at the school because nearly every kid comes with a smart phone. Bullying that starts in school now extends to afterschool and broadcasts of bullying messaging are widespread," the report said.
In D.C., government surveys reviewed by the I-Team show high school students reported a nearly 3 percent increase in electronic bullying since 2012.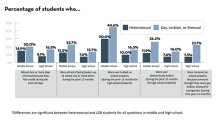 Bullying on social media and through electronic devices was more frequently reported by LGBT students, especially those at the middle school level.
Local
Washington, D.C., Maryland and Virginia local news, events and information
"I see it a lot and I don't understand why people do that," said Sydney Allen, who graduated from Bishop McNamara Catholic High School in June. "They don't know what's going on in other people's lives."
Allen said bullying was not present inside her school but was easy to witness on social media pages between students at other nearby schools.
"It's a scary thought, because it can lead to violence," said Allen.
"Kids are digitally interconnected today," said Christine McComas, whose daughter Grace committed suicide in 2012 after a string of cyberbullying incidents. "They're in touch with each other at all times. It can be very damaging and it never goes away. It can be forwarded, discussed and people can take sides."
Loudoun County Public Schools is employing a "restorative practices" program to respond to incidents of bullying and other disciplinary issues. Under the initiative, the school district arranges and helps moderate conflict resolution sessions between victims and accused bullies. The school district said the program requires students to take ownership of disruptive behavior and allows reduced use of expulsion.
"If you're not in school, you're not getting information you need and you're not contributing to your community," Assistant Superintendent for Pupil Services Asia Jones said. "We're in the business of educating students."
A D.C. Public Schools spokeswoman said the system is working to provide safe learning environments.
"At DCPS, we do this through in-depth staff training on preventing, identifying and responding to all types of bullying; participating in out-of-school programming, such as the Safe Passage program; and ensuring students, staff and families have access to community-based resources that support their well-being," she said.
A Fairfax County Public Schools spokesman said the district has put bullying prevention efforts into place at its schools. He said it includes "providing instruction for students and parents on the impact of bullying."
Montgomery County Public Schools created a bullying incident report form for students and families to submit. It is available in seven languages and specifically references cyberbullying incidents.
Frederick County Public Schools posted guidance for families who have questions about bullying. The guidance includes: "It is not helpful to simply tell a child to ignore bullying or encourage a child to fight the bully. Children need a trusted adult to turn to when they feel threatened. It is important to contact the school counselor, administrator or teacher to report bullying because it may not stop without help."
Reported by Scott MacFarlane, produced by Rick Yarborough, and shot and edited by Jeff Piper.