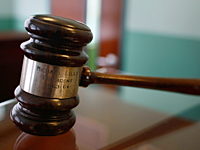 A District of Columbia man has been convicted of striking his teenage son and stomping on his back.

The 60-year-old man was found guilty Friday of first-degree cruelty to children. Prosecutors did not release the man's name to protect his son's privacy.

He faces up to 15 years in prison when he is sentenced in September in DC Superior Court.

Prosecutors say the man struck his 14-year-old son in the eye, nose and on the back of his head as the boy spoke on the phone with his grandmother about which high school he should attend.

Prosecutors say he then stomped twice on the teenager's back after he fell to the floor.

The man's son suffered two fractures around his left eye.

Copyright AP - Associated Press