What to Know
A mob in support of President Donald Trump surged past barriers at the U.S. Capitol Wednesday, used chemical irritants against police and forced lawmakers to flee for their safety.
Four deaths were reported on or around the U.S. Capitol grounds, and several people were hurt, including officers.
Congress reconvened Wednesday night and early the next morning Vice President Mike Pence reaffirmed Joe Biden and Kamala Harris as the president-elect and vice president-elect.
Dozens of people were arrested after a pro-Trump mob breached the U.S. Capitol and forced Congress to stop counting Electoral College votes affirming Joe Biden as president-elect in a chaotic scene of what D.C.'s mayor described as "acts of terrorism and sedition."
Four people died in and around the Capitol grounds after rioters surged past barriers at the U.S. Capitol, used chemical irritants against police and forced lawmakers to flee for their safety. One woman was shot by police in the Capitol; three others suffered medical emergencies, authorities say.
A U.S. Capitol Police officer died Thursday from injuries suffered during Wednesday's riot at the U.S. Capitol, becoming the fifth death associated with the riot.
Mayor Muriel Bowser forcefully blamed Trump at a news conference Thursday, calling him an "unhinged president" who incited violence by spreading "baseless conspiracy theories."
"What happened yesterday is textbook terrorism," she said.
Maryland Gov. Larry Hogan, a Republican who has often levied criticism against Trump, called for the president to leave or be removed from office.
"I think there's no question that America would be better off if the president would resign or be removed from office, and if Vice President Mike Pence would conduct a peaceful transfer of power over the next 13 days," Hogan said Thursday.
D.C. police declared a riot at the Capitol after Trump urged a large crowd attending a mostly peaceful demonstration near the White House to walk down Pennsylvania Avenue and show their strength to Congress.
Sixty Capitol Police officers were injured, including 15 Capitol officers who were hospitalized. One was in critical condition, three Capitol Police and congressional sources said. Dozens of D.C. police officers also were hurt.
Capitol Police say officers arrested 11 people for unlawful entry; one was also accused of assaulting a police officer and resisting arrest. Two were arrested on firearms charges and a Maryland man was arrested on a charge of assaulting a police officer.
According to an arrest warrant, a U.S. Capitol Police officer says a man who later identified himself as Mark Jefferson Leffingwell tried to push past him and other officers to get further inside the Capitol. When the officer stopped him, Leffingwell punched the officer "repeatedly with a closed fist," according to the warrant.
The Metropolitan Police Department arrested 25 people for curfew violations and unlawful entry on the Capitol grounds. Another eight were arrested for curfew violations near the Capitol, D.C. police said.
D.C. police made a total of 68 arrests related to the unrest between Wednesday night and Thursday morning. Five were for illegal firearm possession, including one on U.S. Capitol grounds. Two more were arrested for other weapons, police said.
Away from the Capitol, 28 additional people were arrested for violating curfew, police said.
Local police have arrested a total of 80 people amid demonstrations since Monday, police said, including 12 Pennsylvania residents, 11 Maryland residents, nine North Carolina residents, six Michigan residents, four Virginia residents and four D.C. residents.
Others came from Oregon, Texas, New York, Mississippi, Florida, Connecticut, Colorado, Arizona, Wyoming and Wisconsin, police said.
D.C. police released photos of several people described as persons of interest and said a $1,000 reward may be available for information leading to their arrests and convictions.
The FBI has asked for the public's help to identify those "who are actively instigating violence" in D.C. Those with information can submit tips or digital media on their webpage or call ‪1-800-CALL-FBI (1-‪800-225-5324).
Acting Metropolitan Police Department Chief Robert Contee said Thursday that his officer's actions were "nothing short of heroic."
More than 50 D.C. officers were injured after a lot of "valiant fighting." One officer was snatched into a crowd and then beaten, kicked and shocked with a Taser, Contee said.
No intelligence reviewed ahead of time suggested that rioters planned to storm the Capitol, Contee said.
"Not in our wildest imagination could we foreseen the Capitol grounds being breached," U.S. Secretary of the Army Ryan McCarthy said.
Congress reconvened Wednesday evening, with lawmakers decrying the protests that defaced the Capitol, and hours later finished confirming the Electoral College vote for Biden.
A motorcade believed to be carrying Vice President Mike Pence was seen departing the Capitol before 4 a.m., after Congress completed the counting of the Electoral College votes and reaffirmed Joe Biden and Kamala Harris as the president-elect and vice president-elect.
The riots will leave a visible mark on the Capitol grounds over the next few weeks. A seven-foot-tall fence that cannot be scaled was erected around the grounds.
More than 850 security personnel are expected on the Capitol grounds Thursday afternoon and more than 6,200 National Guard members from D.C. and other states are set to arrive by the weekend, McCarthy said.
The ramped-up security procedures will stay in place for at least 30 days, McCarthy said.
Bowser said there must be an investigation into how and why Capitol Police were overwhelmed by rioters.
"Obviously it was a failure, otherwise you wouldn't have had police lines breached and people enter the Capitol building by breaking windows," she said.
Lawmakers echoed her call to investigate why a swarm of demonstrators was able to overwhelm Capitol Police officers, pushing past metal fence barriers, storming the U.S. Capitol steps and finally gaining entry to the building.
U.S. Capitol Police Chief Steven Sund said late Thursday morning, in his first statement since the siege, that his officers "responded valiantly" and were attacked with metal pipes, chemical irritants and other weapons.
A woman, Ashli Babbitt, was shot and killed by a Capitol Police officer "as protesters were forcing their way toward the House Chamber where members of Congress were sheltering in place," Sund said in a statement. The officer was placed on administrative leave and police powers were suspended pending the results of a joint investigation with D.C. police.
Rosanne Boyland, 34, of Kennesaw, Georgia; Kevin Greeson, 55, of Athens, Alabama; and Benjamin Phillips, 50, of Ringtown, Pennsylvania, each died after suffering medical emergencies, D.C. police said.
Sund cited multiple threats that officers faced at once, including two pipe bombs and a suspicious vehicle. The bombs were found to be hazardous and were disabled.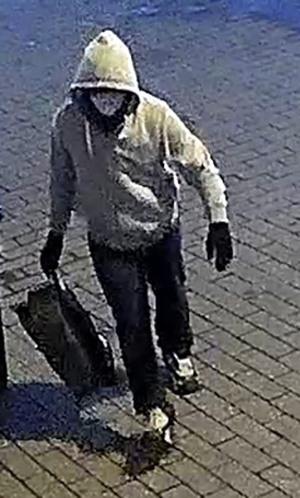 The FBI has released a surveillance image of a suspect in connection with the pipe bombs. A $50,000 reward is being offered for help identifying the suspect.
"Several" Capitol police officers were hospitalized with injuries that Sund called serious.
He promised a thorough review of the riot response and security planning.
"The USCP had a robust plan established to address anticipated First Amendment activities. But make no mistake – these mass riots were not First Amendment activities; they were criminal riotous behavior. The actions of the USCP officers were heroic given the situation they faced," Sund said.
Sund is resigning as Capitol Police chief effective Jan. 16, a spokeswoman said Thursday evening.
D.C. Attorney General Karl Racine said his office reached an agreement with federal agencies that the Metropolitan Police Department would enforce curfew not just on D.C. streets, but on federal property.
"The District of Columbia Metropolitan Police Department, contrary to what you saw, sadly, from the Capitol Police, were in full force and did their job yesterday. And I'm proud of them," Racine said.
Curfews in D.C. and Alexandria and Arlington, Virginia, were lifted at 6 a.m.
D.C. will be under a state of emergency until 3 p.m. on Jan. 21, the day after Biden's inauguration, as a response to the riot.
"Some persons can be expected to continue their violent protests through the inauguration," Bowser said.
Photos: Pro-Trump Supporters Breach the Capitol Building
The state of emergency grants officials extra powers to spend money, coordinate between agencies and enlist special police help. It also gives the mayor power to announce a new curfew, if she deems it necessary.
Bowser was emotional when describing numerous troubling facts: that someone was shot and killed in the Capitol, that police were put in harm's way and that District residents don't have voting representation in Congress.
The mayor made three demands.
First, she called on a D.C. statehood measure to make it to Biden's desk within his first 100 days as president. Second, she said control of the D.C. National Guard must be transferred to the mayor. Third, she said Congress should create a nonpartisan commission to understand the "catastrophic" security failures seen on Jan. 6, 2021.
"I'm upset about what this has done to our city and our democracy," Bowser said. "We have some work to do, to find out what happened, to make sure it doesn't happen again."