Washington, D.C., health workers have cleared away more than 220 homeless encampments in the past two years, according to an investigation by the News4 I-Team.
D.C. health officials said the cleanups are necessary to preserve sanitary and safe conditions in neighborhoods in which the homeless have pitched tents and are sheltering themselves outdoors. But the removal of homeless encampments come with a cost, the I-Team found.
D.C. records show hundreds of thousands of dollars in expenses for the removal of homeless encampments. The cleanups have also triggered a federal lawsuit against the District and ongoing disputes between homeless people and the D.C. workers assigned to remove belongings.
According to agency logs obtained by the I-Team in a public records request, cleanup teams overseen by the Office of the Deputy Mayor of Health and Human Services have conducted 32 homeless encampment removals from sidewalks near 2nd and K streets NE since April 2017. The records show 24 cleanups near 2nd and L streets NE, and dozens more near Union Station and beneath the Whitehurst Freeway.
"It's a very delicate situation," said Kristy Greenwalt, director of the District's Interagency Council on Homelessness. "We're trying to engage folks to come inside. We don't want tents to be shelter. But we also recognize people are in a vulnerable situation."
The District deploys health workers, public works employees, social workers and police to conduct encampment removals. The removals are conducted every two weeks on streets most frequently used by homeless for overnight outdoor sheltering. District government crews post signs in advance to alert homeless men and women about the dates and times of future encampments removals.
"We are trying to remove trash and litter," said Greenwalt. "If people are taking care of their daily living outside, that means they have food and trash. Food that's not refrigerated attracts rodents."
Homeless men and women have criticized the District's encampment cleanups as overzealous and overreaching. Tony Jackson, who recently erected a tent to live in an encampment near Union Station, said District cleanup crews seized his tent and other valuables, including his Christmas gifts.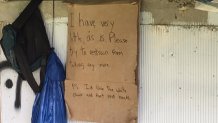 "They gave us a warning two days ago, but they came early and told us if we didn't leave they were going to throw everything away," he said.
Local
Washington, D.C., Maryland and Virginia local news, events and information
In a federal lawsuit against the District, two homeless women formally challenged the encampment removal program. The suit asks the court to order a halt to "unreasonable seizures."
"The District's practice of destroying the unattended personal effects of homeless encampment residents violates the Fourth Amendment, which protects the 'right of the people to be secure in their persons, houses, papers, and effects, against unreasonable … seizures,'" the suit says.
Attorney Ann Staudenmaier, who represents the homeless women in the lawsuit, said the District is too aggressive in its effort to clean up encampments. "We have no problem with the city clearing trash," she said. "The problem arises when the city also clears people's belongings."
"Most of the folks who end up on the streets are really living outside because they've burned all their bridges," Staudenmaier said. "They don't have storage lockers and they don't have family members (who) can keep their stuff. So they literally have everything they own with them."
The case is still pending in federal court. Attorneys for the District have submitted photos of suspected waste and rodents spotted at encampment sites in recent months in defense of the program.
Photos of Homeless Camp Conditions in DC
The I-Team watched and videotaped several homeless encampment removals, including along 1st and 2nd streets NE. On multiple occasions, homeless men and women returned to the encampment sites within hours of their removal by D.C. work crews.
"It's a cat-and-mouse game where the city comes in and does a clearing," Staudenmaier said. "(Then) people literally pick their stuff up, move it a block away and then come back the next day and set everything up again."
District officials said storage bins are offered to the homeless by cleanup crews so people can preserve items they'd like to keep safe during the removals. The items are carried by work crews for long-term storage at a homeless day center in Northeast. District officials granted the I-Team access to the facility. Piles of items are stored in a climate-controlled space in the back of the facility. Contents are inventoried and maintained by the District government.
D.C. officials said they take steps to ensure vital papers are not discarded during cleanups or storage.
In the lawsuit challenging the cleanup program, the homeless women who've sued said, "The District has destroyed homeless residents' tents and other shelters, bicycles, blankets, clothing, identification documents, medications, Social Security cards, medical and court records, family photographs, letters, and other personal belongings."
In records submitted to the D.C. Council, the deputy mayor for health and human services estimated the cost of encampment removals was approximately $172,000 in 2015. The estimate included a $90,732 expense for fencing to block an encampment site near 26th and K streets NW. The fencing has since deteriorated and encampments continue on the site. More recent cost estimates were not available, according to District officials.
"A lot of thoughtful people have been working on this," Greenwalt said. "If there were easier answers, this problem would've been solved by now."
Reported by Scott MacFarlane, produced by Rick Yarborough, shot by Steve Jones and Jeff Piper, and edited by Jeff Piper.