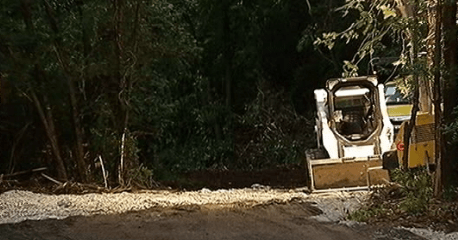 Prince George's County officials have opened a slew of cooling centers, shelters and water distribution locations to help residents whose water is being shut off this week.
Water Distribution Locations
Residents will be limited to two gallons per person. The distribution points will open from 12:00 noon - 9:00 p.m. on Wednesday, July 17 and from 8:00 a.m. – 9:00 p.m. until the water outage is over. Residents must bring their own containers.
Hillcrest Heights Elementary
4305 22nd Place
Hillcrest Heights, MD 20748
Thurgood Marshall Middle School
4909 Brinkley Road
Temple Hills, MD 20748
Oxon Hill Elementary School
7701 Livingston Road
Oxon Hill, MD 20745
Reception Centers
Reception Center are designed to provide residents with a place where they can take showers, clean-up, get water and cool off. Reception Centers will be open from 8:00 a.m. to 11:00 p.m. starting on Wednesday, July 17, 2013. Bottled water will be available at the reception centers.
Stephen Decatur Middle School
8200 Pinewood Drive
Clinton, MD 20735
Friendly High School
10000 Allentown Road
Fort Washington, MD 20744

Shelters
Shelters are designed for residents who have been displaced and require overnight accommodations. Shelter locations have been identified and will be opened as needed. The first shelter to open will be at:
Wise High School
12650 Brooke Lane
Upper Marlboro, MD 20772
Cooling Centers
Cooling Centers are designed so that residents can take a break from the heat for a few hours.
M-NCPPC Cooling Center Locations open to the General Public:
Weekday Hours of Operation (10:00 a.m. to 8:00 p.m.); Weekend Hours of Operation - Residents are encouraged to call the facility to obtain weekend hours or check www.pgparks.com.

• Baden Community Center - 13601 Baden-Westwood Road, Brandywine
301-888-1500; TTY 301-203-6030
• Beltsville Community Center - 3900 Sellman Road, Beltsville
301-937-6613; TTY 301-445-4512
• Bladensburg Community Center - 4500 57th Avenue, Bladensburg
301-277-2124; TTY 301-445-4512; Información en español: 301-445-4509
• Bowie Community Center - 3209 Stonybrook Drive, Bowie
301-464-1737; TTY 301-218-6768
• Cedar Heights Community Center - 1200 Glen Willow Drive, Seat Pleasant
301-773-8881; TTY 301-218-6768
• College Park Community Center - 5051 Pierce Avenue
College Park - 301-441-2647; TTY 301-445-4512
• College Park Youth Services Center - 4912 Nantucket Road, College Park
301-345-4425; TTY 301-445-4512
• Deerfield Run Community Center - 13000 Laurel-Bowie Road - Laurel
301-953-7882; TTY 301-445-4512
• Glenarden / Theresa Banks Complex - 8615 McLain Avenue, Glenarden,
301-772-3151; TTY 301-218-6768
• Glenn Dale Community Center - 11901 Glenn Dale Boulevard (Rte. 193)
Glenn Dale - 301-352-8983; TTY 301-218-6768
• Good Luck Community Center - 8601 Good Luck Road, Lanham,
301-552-1093; TTY 301-445-4512
• John E. Howard Community Center and Senior Activity Center - 4400 Shell Street, Capitol Heights
301-735-3340; TTY 301-218-6768
• Kentland Community Center - 2411 Pinebrook Avenue, Landover
301-386-2278; TTY 301-445-4512
• Largo/Perrywood/Kettering Community Center - 431 Watkins Park Drive
Upper Marlboro - 301-390-8390; TTY 301-218-6768
• Lake Arbor Community Center - 10100 Lake Arbor Way, Mitchellville
301-333-6561; TTY 301-218-6768
• Langley Park Community Center - 1500 Merrimac Drive, Hyattsville
301-445-4508; TTY 301-445-4512
• Laurel-Beltsville Senior Activity Center – 7120 Contee Road, Laurel – 301-206-3350; TTY 301-446-3402
• North Brentwood Community Center - 4012 Webster Street, North Brentwood
301-864-0756; TTY 301-445-4512
• Oakcrest Community Center - 1300 Capitol Heights Boulevard,
Capitol Heights - 301-736-5355; TTY 301-218-6768
• Patuxent Community Center - 4410 Bishopmill Drive, Upper Marlboro
301-780-7577; TTY 301-203-6030
• Peppermill Village Community Center - 610 Hill Road, Landover
301-350-8410; TTY 301-218-6768
• Prince George's Plaza Community Center - 6600 Adelphi Road, Hyattsville
301-864-1611; TTY 301-445-4512
• Rollingcrest/Chillum Community Center - 6120 Sargent Road, Chillum
301-853-2005; TTY 301-445-4512
• Seat Pleasant Activity Center - 5720 Addison Road, Seat Pleasant
301-773-6685; TTY 301-218-6768
• South Bowie Community Center - 1717 Pittsfield Lane, Bowie
301-249-1622; TTY 301-218-6768
• Upper Marlboro Community Center - 5400 Marlboro Race Track Road
Upper Marlboro - 301-627-2828; TTY 301-203-6030
• Vansville Community Center - 6813 Ammendale Road, Beltsville
301-937-6621; TTY 301-445-4512