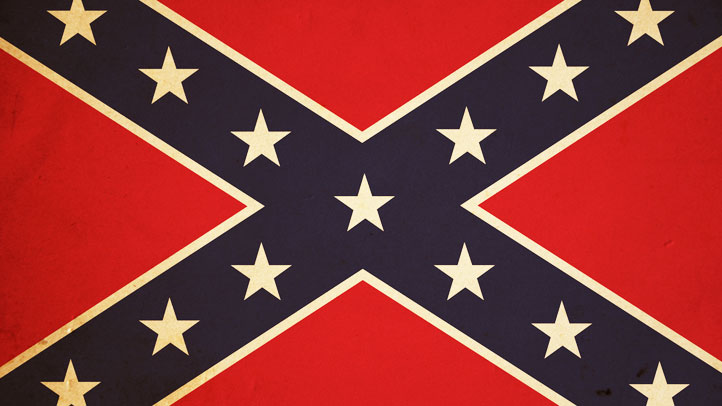 A heritage group's plan to fly a large Confederate flag along Interstate 95 in Virginia has been met with protests by local Democrats.
The Virginia Flaggers plan to fly the 10-by-15-foot flag on a 50-foot pole just south of Richmond starting late next month.
The flag will be visible from the northbound lanes of I-95.
The Chesterfield County Democratic Committee said it realizes the county can't prevent the display of the flag. But in a letter Thursday, the group asked the Chesterfield County Board of Supervisors to pass a resolution denouncing the plan.
"We don't believe that employers will want to bring their jobs to a County whose vistas and horizon are invaded by the Confederate flag," the committee wrote in part. "These employers will rightly fear that the message it sends to prospective employees is not a positive one. Jobs and businesses will go elsewhere."
They and other opponents of the plan say the Confederate flag is a divisive symbol that could upset citizens and deter companies that are considering locating in Chesterfield.
But the founder of Virginia Flaggers, Susan Hathaway, has said the group doesn't want to offend anyone. That the flag is intended to honor the area's Confederate heritage, she said.
Her group leased the land for the flag both because of its proximity to I-95 and because the area is historically significant, she wrote in a post on the blog Free North Carolina. Confederate troops are believed to have camped around the area during the Bermuda Hundred Campaign.
"Basically, the flag is being erected as a memorial to the memory and the honor of the Confederate soldiers who sacrificed, bled and died to defend Virginia from invasion," Hathaway told the Richmond Times-Dispatch.
Virginia NAACP Executive Director King Salim Khalfani disagrees that the flag is merely intended to honor Confederate heritage.
"If they had been successful, I'd still be in chains," he told the Times-Dispatch.
Khalfani also said the flag would be "an embarrassment" in the area, deterring visitors and businesses, the Times-Dispatch reported.
"It's going to continue to make Richmond look like a backwater, trailer park, hick town," he said.
Hathaway argued the flag will be a welcoming beacon along I-95.
"This will tell people that everyone is welcome," she told the Times-Dispatch. "Why do we have to be a place where Southerners who are proud of our heritage are not welcome?"
Copyright AP - Associated Press