Climate change activists blocked the streets around major banks and the Trump International Hotel during a roughly two-hour protest during Friday morning's rush hour.
The protesters dispersed after 9 a.m., police say.
Demonstrators gathered at McPherson Square before 7 a.m. D.C. Police said they went on to block multiple major intersections near BlackRock on New York Avenue, the Environmental Protection Agency on Pennsylvania Avenue and the Trump Hotel. (See the route here.)
Outside the Trump Hotel, videos show demonstrators stopped in the street, dancing and blaring music.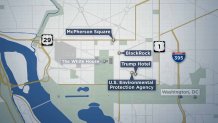 Jordan McAuliff, a junior at Montgomery Blair High School in Silver Spring, Maryland, plans to participate. She represents Sunrise Movement, an organization led by young people to stop climate change, and she worries about the planet.
"It is terrifying to know that I don't really know what the world is going to look like when I'm grown up," she said.
Activist Nadine Bloch says Friday morning's protest and the one that happened Monday raise awareness.
As for those whose morning commutes are disrupted, she said, "Look, what we're talking about is a really difficult moment in the history of this planet; nothing is going to get easier."