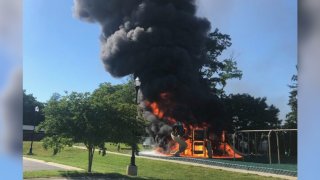 A child faces arson charges after a huge fire damaged a playground in Poolesville, Maryland, authorities say.
A playground in the 19700 block of Fisher Avenue was set ablaze, the Montgomery County Fire & Rescue Service said at about 5:35 p.m. Sunday. Photos show tall, orange flames and a large cloud of dark smoke.
A child was arrested, charged and released into the custody of their parents, the fire department said. A paper bag and sandwich container apparently had been set on fire beneath playground equipment. That ignited the rubber mulch, the department said. Overall, the fire did an estimated $75,000 in damage.
Information on the child's age was not immediately released.
Stay with NBC Washington for more details on this developing story.