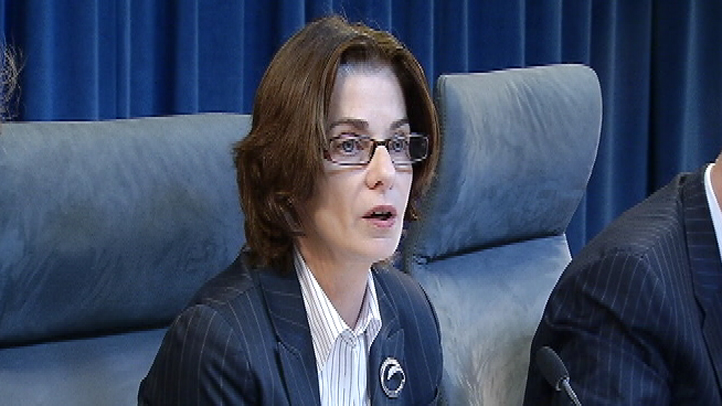 The D.C. Council has passed sweeping taxicab modernization legislation that will institute GPS, credit card readers, a universal color scheme and a slew of driver education and training plans.
These policies will start to go into effect by the end of the year.
On the other side, Uber, the app-based car hiring service will go unregulated until Dec. 31.
After a healthy debate Tuesday by D.C. councilmembers, an amendment introduced by Ward 2's Jack Evans provided for the company to continue operating as-is until Dec. 31. By that time, Cheh is expected to introduce new regulations to govern the innovator.

Cheh's previous amendment, which she said was crafted with Uber's cooperation, would have brought the service into compliance with current law. Among other regulations, the amendment would have placed the black cars riders hire via smartphone app into a sedan-class category and set a minimum fare of $15.
In less than a day, Cheh's Uber-regulation amendment was whisked off the table.

The problem? Yesterday Uber emailed its subscribers in D.C. with a call to fight the amendment -- and the call seems to have worked. Councilmember Jack Evans said he received 5,000 letters of support for Uber. Cheh quickly announced she would remove the amendment and offer it as a standalone bill come fall.

Uber CEO Travis Kalanick told DCist "there was no agreement" between Uber and Cheh's office. Rather, Uber and its supporters have charged that Cheh was kowtowing to the taxi lobby.

Cheh spokeswoman Kiara Pesante said that Kalanick wasn't involved in the conversations because he's not based in D.C. "We worked with their D.C. team, and their [local] general manager, and their lawyer," Pesante said. "We were blindsided," she said, by yesterday's announcement that amendment wasn't agreeable to Uber.

The company has objected to the $15 price floor, but Pesante said that's intended to be more of a ceiling. $15 is already Uber's own minimum fare, and legally setting it as the base rate would mean that Uber can't increase prices later.

Uber said the $15 base fare has delayed the D.C. launch of UberX, a cheaper and less luxurious car service. But Pesante said the amendment likely wouldn't apply to UberX, which has been marked by the use of hybrid vehicles in other cities. As a different class of car, UberX would have separate, to-be-determined rules applied.

So what's next for Uber? This isn't a total win. As of now, Uber is okay to maintain the status quo through the end of the year.
At that point, the company will need to be regulated so that it either meets current laws or gets placed in a special class. The DCTC and Cheh's office says its vehicles are billing themselves as limousines but operating as metered taxis, which doesn't jibe with current law.

DCTC Commissioner Ron Linton wrote in January after a so-called sting of an Uber driver that resulted in hundreds of dollars of fines: "As the driver of a taxi charging on a time and distance basis, he is required by law to have an approved meter and to follow the approved rate schedule. He didn't meet that threshold, and therefore he made an unlawful charge."

In the meantime, Uber's supporters may want to ramp up their involvement in the law-making process if they want to change the regulations binding the service.