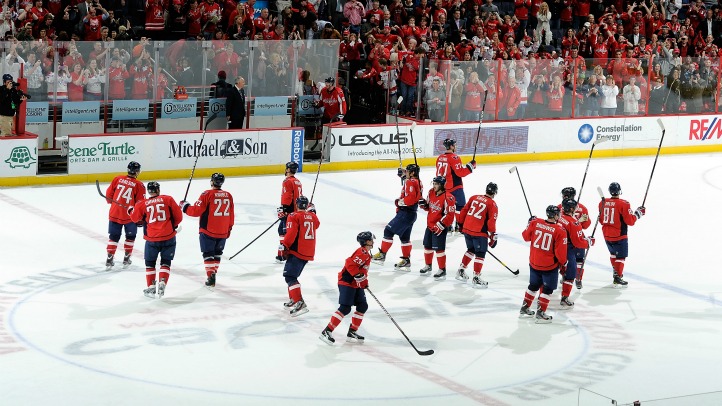 The Washington Capitals will begin their quest for the franchise's first-ever Stanley Cup on Thursday evening, when they face the defending NHL champion Boston Bruins in the first game of the best-of-7 Eastern Conference Quarterfinals
The Caps were denied a fifth straight Southeast Division title when the Florida Panthers defeated the Carolina Hurricanes, 4-1 Saturday. However, Washington's win over the New York Rangers coupled with Ottawa's loss to the New Jersey Devils enabled the Caps to slide into the second season as the No. 7 seed.
The full schedule and national TV information for the series is below. Games 1, 3, 4 can also be seen on Comcast SportsNet in the Washington and Baltimore areas. The schedule will be updated with information for games 5, 6, and 7 as the series progresses, if necessary.
Game 1: Thursday at Boston; 7:30 p.m. (NBC Sports Network)
Game 2: Saturday at Boston; 3:00 p.m. (NBC)
Game 3: April 16 at Washington; 7:30 p.m. (NBC Sports Network)
Game 4: April 19 at Washington; 7:30 p.m. (NBC Sports Network)
Game 5: April 21 at Boston; 3:00 p.m. (NBC, if necessary)
Game 6: April 22 at Washington (Time and broadcaster TBD, if necessary)
Game 7: April 25 at Boston (Time and broadcaster TBD, if necessary)