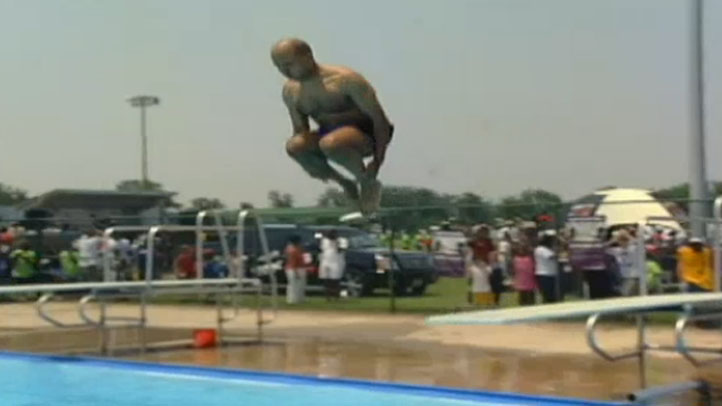 Former D.C. Mayor Anthony Williams was always a little bit shy and, yes, a little bit nerdy. But as NBC4 recalled last week, he made one really big splash as mayor.
No, we weren't talking about his landing the Washington Nationals or balancing the city's red-ink budgets. We're talking about the big splash he made with the "Tony Williams cannonball" that he did for several years to open the annual summer swimming season.
Williams was the first modern mayor to make a real effort to improve the city's recreation centers and swimming pools. Your Notebook stood in the bottom of more than one empty pool to make the point that children, families and citizens were being shortchanged.
Mayors Adrian Fenty and Vincent Gray have kept up the improvements.
But let's go back to the cannonball. Williams brought attention to the recreation improvements by donning a swimsuit and splashing into the water of different pools.
But the mayoral gimmick ended when Williams left office in 2006. Neither successor Fenty nor Gray has taken the plunge.
On Friday, Mayor Gray showed up in a full business suit — full business suit — to sit in the lifeguard stand as a group of people jumped in to start the season. Now, it was very cold on Friday, about 52 degrees. We're not sure anyone should have been jumping into an outdoor pool.
But we digress. And maybe things are changing. Maybe the next mayor, assuming for a moment it's not Gray, will revive the Tony tumble.
On Twitter and elsewhere online last week, people were demanding that the next mayor, whoever it is, bring back the mayoral cannonball. Well, to be truthful, a few people were rabble-rousing about it. But NBC4 took the bait. We decided to ask the mayoral candidates (such as they are right now) to weigh in on the cannonball issue.
First up was Ward 6 D.C. Council member Tommy Wells, who was appearing with us on the WAMU 88.5 Politics Hour hosted by Kojo Nnamdi. We grilled Wells about reviving the tradition. We even warned him his answer would be splattered on television.
"I'm not sure people want to see me do a cannonball," he demurred. (His own Wells 2014 campaign staff is urging him to commit, and now there's a poll on his website asking whether he should.)
Muriel Bowser met us in Northeast Washington at Riggs Road and South Dakota Avenue. Bowser stepped up the challenge. "Why not," she replied when asked about the cannonball. "And while we're at it, we should do some laps." She said it would be a good way to promote fitness.
Both Wells and Bowser already are in the mayoral race. Ward 2's Jack Evans — who is to become a candidate in early June — plunged ahead into the cannonball issue.
"Will you bring back the Tony cannonball?," we asked. "Absolutely," Evans replied without a pause.
Evans wondered if others were afraid to be seen in a swimsuit. "I don't get it." Evans noted that he and his young children did a ceremonial jump into the Volta Park pool when it reopened.
Now what about At-Large Council member David Catania? He hasn't stated his intent, but he's being mentioned as a potential candidate in the 2014 November general election. The Notebook didn't catch up with him on Friday, but we did send a text message asking whether Catania would restore the Tony tradition. "Absolutely" was his one-word reply.
We're on to something here, folks. The candidates have been given a heads-up. The opportunity for the next cannonball is not until next May. We might have a Democratic nominee by then. That could be a new tradition: the party nominees do the jumping.
Maybe former Mayor Williams could come out of retirement — no, no, not to run again — to do the cannonball every year. Experience counts.
■ Some pool stats:
The District operates 19 outdoor pools, four children's pools and 11 spray parks. The Department of Parks and Recreation offers pool safety classes (no official cannonball instructions) and programs for adults and seniors.
"I would like to remind everyone that safety is the key," said recreation director Jesús Aguirre. "Learn how to swim and follow all the rules."
■ Bike update:
Organizers of Bike to Work Day report that 14,500 cyclists participated this year. That's about 15 percent growth. It was the largest number since the annual event began in 2000.
But maybe more importantly, word came late last week that the District government is going to do more to protect cyclists who use the middle of Pennsylvania Avenue downtown. Police have ticketed taxi drivers and others who make mid-block U-turns that endanger the cyclists. Some of them have been hit by vehicles.
The website DCist published a chilling picture of a bicycle crumpled to the ground. And NBC4's Mark Segraves did a story about the dangerous practice and efforts to ticket offenders.
Now it appears that some plastic white tubing will be put up to discourage the U-turns and to increase safety for the cyclists. The Notebook thinks those plastic tubes rapidly become eyesores as vehicles brush by, bending them or knocking them over. But better that than brushing off the cyclists after they're knocked down.
---
Tom Sherwood, a Southwest resident, is a political reporter for News 4.