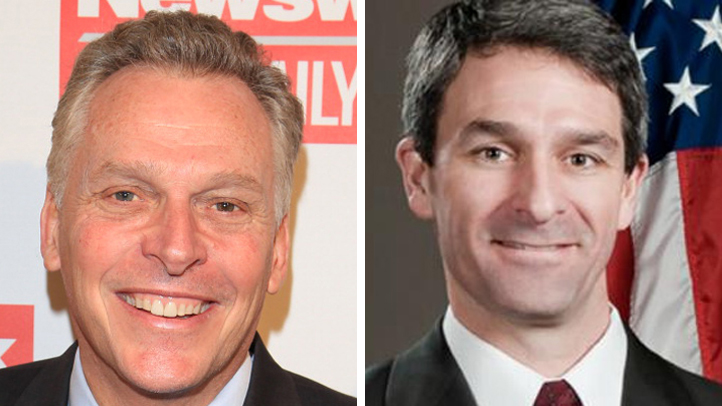 Virginia gubernatorial candidates Ken Cuccinelli and Terry McAuliffe used an agriculture-focused forum Friday to trade criticism on issues like transportation and the federal health care overhaul.

McAuliffe went after Republican Attorney General Cuccinelli for opposing Gov. Bob McDonnell's signature transportation policy, painting him as outside the political mainstream.

"I'm so proud to say all the mainstream leaders in Virginia came together to support this important compromise,'' he said of the transportation funding bill. "My opponent was against it, and he was against it for rigid social ideological reasons.''

Cuccinelli went after McAuliffe, a former national Democratic Party leader, as a Washington insider whose background sets him at odds with what makes sense for Virginia.

"As governor, McAuliffe is not going to fight Washington; he is of Washington,'' Cuccinelli said, touting his record as state attorney general in suing the Environmental Protection Agency and challenging the Affordable Care Act. "We need a governor who's willing to fight back when Washington overreaches.''

The candidates spoke separately during the forum, which was held in conjunction with the Virginia Farm Bureau Young Farmers Summer Expo. They both discussed agriculture, the state's No. 1 industry, in the context of larger campaign goals.

McAuliffe said a key challenge facing agriculture is transportation gridlock; Cuccinelli said the federal government is agriculture's biggest threat.

McAuliffe, a Democrat and a businessman, said the $79 billion annual economic impact of agriculture and forestry make them critical industries for growth, and he promised farmers a seat at the table when it comes to regulations that affect them. He pledged to travel the globe to expand markets for Virginia exports and increase annual exports to China to more than $1 billion.

Cuccinelli pledged to advocate for stronger protection of property rights and continue to fight Washington on policies that have a major disruptive effect on small business success and growth, including the costly Affordable Care Act and damaging "experimental'' environmental regulations.

Both candidates made their case on the health care law. Cuccinelli focused on an overall impact that he said has put a dark cloud over business and the middle class. McAuliffe said the law is here to stay and honed in on the Medicaid expansion, arguing that Virginia stands to lose billions if it doesn't participate.

"This is our money we're paying in,'' McAuliffe said. "I want it back in Virginia; I want it rolling through our economy.''

With the expansion, McAuliffe argues, 33,000 new jobs would be created - and without it, some hospitals may be forced to close.

Cuccinelli called him out on equating a welfare program expansion with a jobs program, pointing to the rising cost of health care for individuals as well as the state under the Affordable Care Act. Citing a poll that showed 40 percent of small businesses aren't hiring or expanding because of the health care law, he called it an attack on the middle class.

"That alone is stopping economic growth and stopping job creation,'' he said, "and I will do everything I can to keep us un-entangled with this new law as it unfolds.''

The two are set to appear at another similar forum in northern Virginia next week.
MORE ON NBCWASHINGTON.COM
Copyright AP - Associated Press