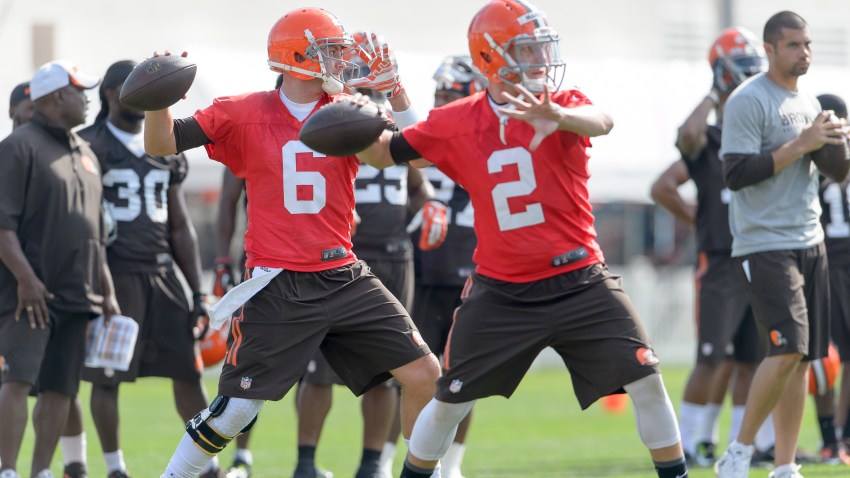 There is much intrigue surrounding a preseason game between the Redskins and the Cleveland Browns on Monday at FedEx Field, as Cleveland's well-publicized quarterback competition will ultimately be decided.
Browns coach Mike Pettine recently said that he hopes to announce either Brian Hoyer or Johnny Manziel as his starting quarterback Tuesday for Week 1 against the Steelers.
How both fare against the Redskins will provide Pettine with vital information. Hoyer will start, but the plan is for Manziel to receive equal time with the first-team offense.
"I think it's a little overblown as to who the starter is going to be," Pettine told reporters last week. "The key component, as I've stated earlier this week, is that we are going to balance the reps. We will play it a little by ear as it goes on, we haven't truly decided as far as the rotation but the goal is, for when we look at the stat sheet at halftime, that they both have the same amount of repetitions and hopefully they both get a good amount of work."
Robert Griffin III -- like Manziel, a former Heisman Trophy recipient -- can commiserate with "Johnny Football" about the attention and scrutiny he has received.
"You can't fight that battle," Griffin told The Washington Times. "There's always going to be something that you say or something that you do that somebody's not going to like. It's not to be liked, but to be yourself and if that's who Johnny is then that's who is if he accepts that.... The media probably won't accept that, they'll probably continue to cover it and do whatever they want to do with it. From my perspective, for what I've had to go through, it's hard to fight some of the stuff that's been said. But, you have to just continue to be yourself."
Meanwhile, coach Jay Gruden plans to play his starters for only a quarter, so Hoyer and Manziel should both see reps against the Redskins' top defenders within the first 15 minutes. Former Redskins offensive coordinator Kyle Shanahan is now in charge of the same in Cleveland, which should allow for a bit of interest.
For the Redskins, Pierre Garcon and DeSean Jackson, both of whom sat out of the preseason opener against the Patriots, should play Monday, giving the team and the fans their first glimpse at Washington's revamped receiving corps.
---
Follow Adam on Twitter @AdamVingan and e-mail your story ideas to adamvingan (at) gmail.com.