A black Bowie State University student who police said was fatally stabbed by a white stranger was honored Tuesday at the commencement ceremony where he would have walked across the stage.
The gown and stole of Army Lt. Richard Collins III was draped over a chair in the front row, and his family accepted his business administration degree. A moment of silence was also held during the ceremony.
The university's commencement was held in a sports arena at the nearby College Park campus of the University of Maryland, where Collins was killed early Saturday.
Bowie State President Mickey Burnim asked graduates to remember Collins.
"Let us pause now in a moment of silence and contemplation of what each of us might do to promote greater peace, harmony and love that seems to be so lacking in our country and our world today," he said.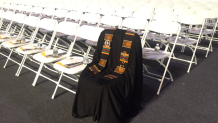 University of Maryland physics professor Charles Clark wore his academic regalia and carried a sign honoring Collins as he greeted Bowie State graduates and faculty. He says he wanted to greet people on his own behalf and "give them a good impression'' of the university.
Local
Washington, D.C., Maryland and Virginia local news, events and information
People walking into the graduation ceremony thanked Clark, including Bowie State science professor Uvetta Dozier, who called Collins' death heartbreaking. Dozier says Collins' "life could have been a lamp unto those who are lost.''
Collins had just been commissioned as a second lieutenant in the Army, and "he prided himself on his time and in his ROTC unit on being the top runner in his PTs," remembered his father, Richard Collins Jr. "He even won a certificate for being the best."
Collins, 23, died Saturday after he was stabbed by Sean Christopher Urbanski, 22, on the campus of the University of Maryland, police said.
Urbanski, a University of Maryland student, is charged with murder and assault. The FBI is helping local police determine whether the killing was a hate crime. Collins was African American. Urbanski is white.
Court documents obtained by News4 say Collins was waiting for the university's shuttle bus with his friends about 3 a.m. Saturday when they realized the shuttle bus had stopped running for the night. The three decided to call an Uber and were waiting for one to arrive when they heard Urbanski screaming nearby, according to the documents.
Collins and his friends watched Urbanski as he approached them. According to court documents, Urbanski said, "Step left, step left if you know what's best for you," and Collins responded "No."
Urbanski continued to approach the group, pulled out a knife with a 3- to 4-inch silver blade and stabbed Collins once in the chest, the documents said.
Police asked the FBI to assist in the investigation after learning that Urbanski belonged to a Facebook group called "Alt-Reich: Nation,'' where members post disparaging material about African Americans and others.
Collins' father told NBC News he was in shock.
"I'm in no place to feel very many emotions beside sadness and just a deep sense of personal loss," he said.
"A parent's worst nightmare has just reached my doorstep," he continued.
Copyright AP - Associated Press