Bono, Paul McCartney, Tom Brady and Stephen Colbert got votes. So, too, did Snoopy, Mickey Mouse, a local seventh grade soccer player, a high school social studies teacher and a Baltimore radio disc jockey. Public records obtained by the News4 I-Team reveal hundreds of people got write-in votes for U.S. president in Anne Arundel County, Maryland, on election night.
The names included people both real and imaginary. In some cases, voters wrote-in a message of anger or frustration rather than the name of a candidate.

State elections officials acknowledged in October they would likely not read and record the names of write-in vote recipients who were not officially registered to be write-in candidates in Maryland.
In a records request with the state, the News4 I-Team secured copies of the write-in votes from Anne Arundel County to ensure some of the names would be read.
One ballot listed seventh-grade student Ryan Staples as choice for president, with his 11-year-old brother Gavin listed as choice for vice president. The two are students at the Calverton School in Huntington, Maryland. The children's father, Anne Arundel County attorney Ted Staples, told the I-Team he was the one who cast the ballot for his children.
"I'm an extreme moderate," he said. "And I was frustrated by my choices."
Ryan is "very active in sports and a good soccer player," his father said. Of his son Gavin, Staples said, "He's a straight A student, very smart and very stubborn."
Christopher Caldwell, a social studies teacher at the Loyola Blakefield School in Towson, Maryland, received at least one vote. Caldwell, 30, said he suspects one of his former students cast the ballot.
"Considering how unprepared I'd be for the job of president, it shows how disenchanted voters were on Election Day," he said.
Caldwell, who teaches government, mentioned he'd be disqualified from the job because of his age.
Some voters opted for statements of protest on their ballots.
The I-Team saw ballots marked "God help us," "Return us to England, we lost," "Unacceptable choices" and "I wanted to vote, but I cannot vote for these candidates."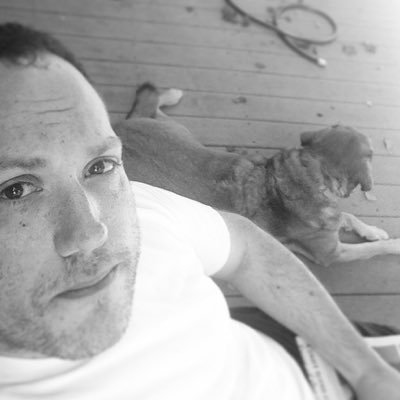 Baltimore radio personality Josh Spiegel was named as a write-in selection for president on a ballot. So, too, were a number of former and current Maryland state officials, including Governors Larry Hogan, Martin O'Malley and Robert Ehrlich.
"I'm honored and terrified at the same time," Spiegel said.
Former presidents, including Harry Truman and Abraham Lincoln, won votes.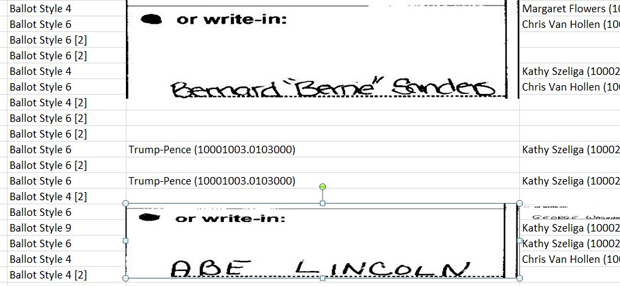 Fictional characters who received votes included Snoopy, Mickey Mouse and Santa Claus.

Religious figures won write-in votes, including Mother Teresa and Pope Francis.

Congressional leaders won votes by the dozen, including Sen. John McCain, Gov. John Kasich, Sen. Marco Rubio and Rep. John Lewis.
Athletes named included Tom Brady and former Atlanta Braves pitcher John Smoltz.

Celebrities for whom votes were cast include Paul McCartney, Bono, Jon Stewart and Stephen Colbert.

Write-in votes are not simply symbolic or trivial, Caldwell said. They are a statement made by voters about the candidates on the ballot.
"They're statements about how disenchanted some Americans became on Election Day," Caldwell said.