Whether you're superstitious or not, a boil water advisory falling on Friday the 13th is making business tough for restaurants and other establishments in D.C.
Restaurants in the affected areas of Northwest and Northeast D.C. have had to bring in loads of bottled water and ice for customers and can't serve coffee, tea and other drinks that are made with machines connected to the water supply.
See a map of the affected areas here.

"We had to buy some bottled water for our customers and we had to take all the precautions in the kitchen, make sure everything's safe for our customers," said Wilfredo Canales, a manager at The Diner in Adams Morgan.
But the extra hassle and work didn't seem to affect The Diner's customers too much.
"I think it's all good, you know, they're really nice and they offered us a complimentary bottle of water," customer Aly Zolet said.
Local
Washington, D.C., Maryland and Virginia local news, events and information
The water issues come as thousands are visting the city for MLB All-Star Week at Nationals Park.

While DC Water says residents can shower and bathe in the water, health officials said any food facilities in the city have to follow strict guidelines during a boil water advisory including:
Bringing tap water to a rolling boil for three minutes before using it
Throwing out food or drink products made after the advisory was issued
Using bottled water to wash any surfaces that food comes into contact with
Workers must wash their hands with bottled water and use sanitary wipes for further sanitation
They must also wear gloves for all food prep and service
Use disposable serving containers and utensils
D.C. health officials said any restaurants that can't meet those requirements should temporarily close.
At the Costco on Market Street NE, customers were wheeling out crates upon crates of bottled water. They said there was a line inside for water.
"You know, I really want gallons, but I had to buy a thing of bottles, you know, because the supply's running out quick," one man told News4.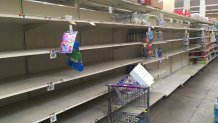 A Giant store in the Cathedral Heights neighborhood along Wisconsin Avenue NW had its shelves nearly depleted of water, but there was one tower of bottled water in the produce section.
Yellow caution tape was draped over the water fountains at the Shaw Library and a sign read "Do not drink the water."
The advisory is expected to extend into at least Saturday, DC Water said.