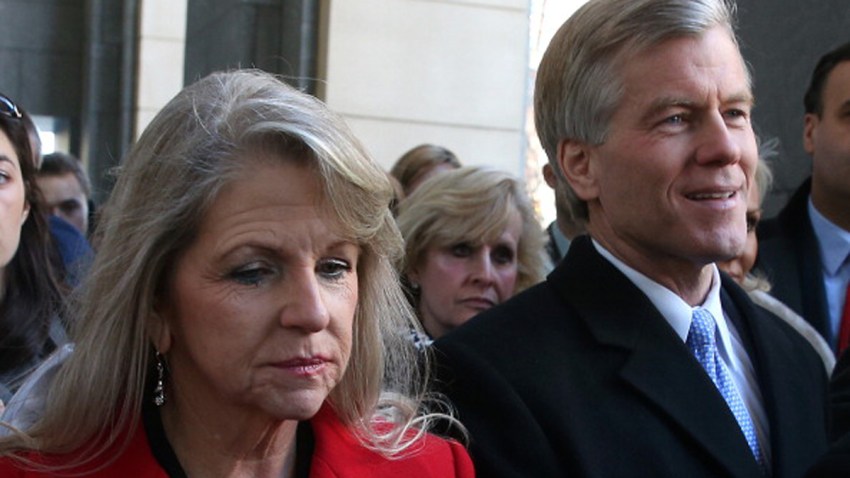 A federal judge has overturned one conviction against former Virginia first lady Maureen McDonnell, but affirmed other corruption verdicts against her and her husband.
Judge James R. Spencer rejected the McDonnells' request for a new trial or for their convictions to be overturned.
But Spencer did toss a jury's decision that Maureen McDonnell was guilty of obstructing justice. Spencer said prosecutors did not prove that she attempted to mislead a federal grand jury investigation.
The couple was convicted of multiple public corruption charges nearly three months ago.
With Monday's ruling, Maureen McDonnell is now guilty of eight counts instead of nine. Her husband, former Virginia Gov. Bob McDonnell, was convicted on 11 counts.
Defense lawyers had filed the motions asking U.S. District Judge James Spencer to acquit the couple, or at least order a new trial.
Spencer had presided over the couple's nearly six-week trial during the latter half of the summer.
During the trial, bombshell testimony revealed the McDonnells were living separately, and that Maureen McDonnell had frequently texted and emailed the wealthy businessman whose gifts and loans to the couple were at the center of the case.
A jury convicted the McDonnells in September of illegally trying to help a dietary supplement maker in exchange of more than $165,000 in gifts and loans.
The McDonnells are expected to be sentenced early next year.