What to Know
Only 3 percent of the design industry is African-American, the American Institute of Graphic Arts and Google's Design Census found in 2016
The directory Blacks Who Design launched with the contact and skills information of more than 130 black designers
'[T]he goal ... is to elevate other peoples' profiles," said Wes O'Haire, a product designer at Dropbox
At 1 a.m. on a school night last year, Yannick Zanfack — then a senior at the University of Maryland, College Park — finally solved an interactive design problem he had been working on all day. He was overcome with joy over the sudden realization that he could finally consider himself a product designer.
There was only one problem: Now what?
As a black designer, Zanfack encountered a barrier to joining an industry he saw as unrepresentative of people like him, and he felt there was no one for him to turn to for support.
Only three percent of the design industry is African-American, the American Institute of Graphic Arts (AIGA) and Google's Design Census found in 2016. White people, on the other hand, make up 73 percent of the industry.
"It would have put me so much more at ease if there had been someone just like me who ... I could have reached out to with all my questions," Zanfack said.
So he, along with the help of four other product designers of color, created a solution. In February, the team launched a Twitter directory called Blacks Who Design, offering contact and skills information of black designers, mostly located in North America, to serve as a tool in the hiring process in the industry. Launched with 130 profiles, it has since grown to include dozens more.
Users can filter options to search for designers based on their skills. Every designer's profile includes their location and direct links to their Twitter accounts and portfolios.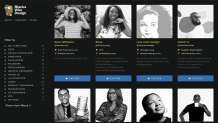 The demand for the product was obvious long before its launch.
Local
Washington, D.C., Maryland and Virginia local news, events and information
Last summer, Wes O'Haire, a product designer at Dropbox in San Francisco, tweeted, "Are you black and an aspiring product designer? If so, I want to help. Next week, I'm devoting my lunch hours to portfolio reviews and career talks."
The response was immense.
Tolu Olubode, a junior at University of Ottawa, pitched the idea of creating a directory and ultimately handled the back-end coding of the site. Zanfack, along with Hasque May, a junior at Rochester Institute of Technology, contributed to the overall design of the platform.
The primary purpose of Blacks Who Design is to diversify the hiring networks of recruiters at tech companies and connect black designers to each other, the creators said.
"A lot of hiring is just done on a referral basis, so if people don't have diverse networks, then they won't have diverse referrals," O'Haire said.
The platform also serves to increase the visibility of blacks in tech, with a long-run intention of shifting the expectations of what a designer should look like, said Nathalyn Nunoo, a graduate of the University of Maryland who later joined the team.
"We have a huge societal projection of what a designer looks like, and it almost never looks like a black person," she said.
The impact of representation is of particular importance to Nunoo, who considered design for the first time when she took a graphic design class in high school. She googled "how to become a graphic designer" to begin her career exploration.
Her results pulled up images of white men only — no one who looked like her. She said the lack of representation discouraged her from pursuing a design career. It took four years for her to return to the idea.
People are added to the directory on a nomination basis, whether they are nominated by other people or themselves. This allows for the featured designers to own their blackness without having to defend it, its creators said. Individuals included on the site do not to be of full black descent to be added to the directory. They just have to be nominated.
"The site errs on the side of permissive," O'Haire said. "There's no strict criteria or checklist I'm going through when I add people to the site."
In a recent Twitter thread, a designer featured in the directory thanked the creators of Blacks Who Design for making her feel seen for the first time, after spending most of her life having to defend her blackness as a half-black, half-Asian woman.
"This is why we [created] the site," O'Haire said. "It's not about, 'Are you black enough?' If you identify as black, let's get you on [the site]."
The directory has already begun to help those featured.
"I've heard a lot of great stories about people having coffee chats because of the site, being invited to speak at conferences because of the site," O'Haire said. "Some people have been able to get interviews at really big tech companies. I hope that this is able to give them more exposure, because the goal ... is to elevate other peoples' profiles."
However, not all of the feedback about the platform has been as positive. In fact, after launching, Blacks Who Design was bombarded on social media with backlash from members of the design community, who claimed the platform promoted segregation.
O'Haire compared this feedback to what was said about the name of the Black Lives Matter Movement.
"With Black Lives Matter, there's an implicit 'too' at the end," O'Haire said. "It's not only black lives matter. It's not a saying of exclusion. It's a saying of inclusion. Like, hey — include us, too."
The creators all agree, though, that the need for this product supersedes the feedback it may receive online.
"If this helps one hundred people feel less alone in the design community, then it's worth it," Olubode said.
Zanfack agreed.
"No matter what you do, there's never going to be a point where we all agree on one thing," he said. "We're not going to overreact about it, because the impact we're making is very important."
Instead, they are focusing their energy on the next phase of the project. They plan to increase the platform's ability to connect designers with jobs and companies but are not yet sure what that will look like.
Some of the creators have also expressed a desire to sponsor scholarships. They're also interested in connecting with companies to sponsor designers who can't afford to attend conferences, where many designers make connections that lead to jobs, Oludobe said.
Nunoo got her first design job offer by going to a conference, which she was only able to attend because she received a diversity scholarship.
"A lot of opportunities are only accessible if you already have resources," Nunoo said. "In order to get to a design conference that might cost you like $2,000, you probably should have $2,000. But there are historically disadvantaged people who are not going to be able to go to that conference that leads them to their next job."
More than anything, the creators want to see the platform expand out of North America.
"Being from Nigeria myself, I want to see places like Lagos and South Africa highlighted," Olubode said. "People there may not be solving problems that Facebook or Google care about, but they are solving problems that matter."
No matter the next phase, the creators all agree Blacks Who Design is not just a directory. For its creators, and for all of the designers featured on it, it's a chance to be seen as a talented designer, not just someone who can help companies meet their diversity quotas.
Zanfack, once a student who faced the fear of beginning his career and now a product designer at Next Door, said, "It helps [black people] celebrate themselves, and that's empowering."