What to Know
The couple that owns the store said they wanted to meet a need in a "book desert."
A study says that in Anacostia, 830 kids would have to share one age-appropriate book. In Capitol Hill, just two kids would have to share.
The store is located in the Anacostia Arts Center on Good Hope Road SE.
As Ramunda Young greeted customers at the grand opening of Mahogany Books in Southeast D.C. on Saturday, a man walked in and started to cry.
Young asked him if he was OK, and he told her what brought him to tears.
"I've never seen so many black books," Young said the black man in his 50s told her.
She had tears in her eyes too as she told the story later Saturday.
"It feels like our legacy," she said.
Mahogany Books is the first bookstore to open in D.C. east of the Anacostia River in more than 20 years, Young says. She and her husband, Derrick Young, first opened their store in the Anacostia Arts Center on Good Hope Road SE in late November. They held a ceremony Saturday, during Black History Month, to celebrate its opening.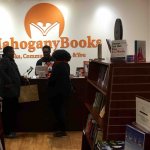 After a ribbon-cutting ceremony, customers browsed through the bright, 500-square-foot shop and told the Youngs how much the shop meant to them.
Young, 42, said her family opened the store packed with books "by, for and about the African diaspora" because she wants African Americans, especially children, to see themselves represented.
"It's not just a bookstore; we're changing perceptions of how we see ourselves," she said.
The Youngs named Mahogany Books after their 13-year-old daughter, and the store's orange logo was designed based off a photo of her. In the photo Young took of her daughter at age 4, Mahogany reads the illustrated children's book "Coretta Scott," by Ntozake Shange.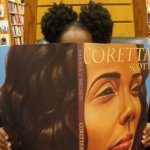 The bookstore's logo shows her "little Afro puffs" over a large book, her mom said.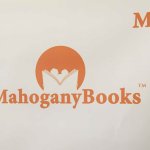 The Youngs, who live in Virginia, opened their store in Anacostia because they wanted to meet a need in a "book desert."
Books, especially children's books, are startlingly scarce in high-poverty neighborhoods. A 2016 study in the journal "Urban Education" found that in Anacostia, 830 children would have to share a single age-appropriate book, while only two children would need to share a book in the wealthier Capitol Hill neighborhood.
The Books From Birth program started in D.C. in February 2016 seeks to fight the problem. Any child who lives in the District can be signed up to receive a free book every month, from birth until the child's fifth birthday.
Two additional bookstores planned for Anacostia also will make a difference. The local bookstore and cafe chain Busboys and Poets is expected to open a new location later this year on Martin Luther King Jr. Avenue SE, just blocks from Mahogany Books. Also, work is underway to create the Charnice A. Milton Community Bookstore, in honor of the 27-year-old community reporter who was shot and killed in the area in May 2015 as she waited for a bus.
In the meantime, a number of book readings and events are planned at Mahogany Books. On March 15, Beverly Bond, the founder of the youth empowerment organization Black Girls Rock, is set to speak. Go here to see the full list of events.
Young said she hopes the events and store will add to the cultural life of Anacostia.
"You can walk out of your house and go into a bookstore and look around, like you can do in other parts of town," she said.