Snow fell across the D.C. area Thursday morning, leaving area roads slick and closing several major school systems.
The National Weather Service has issued a winter weather advisory for most of our region, and News4 has declared Thursday a Weather Alert Day. Wind chills could reach -20 overnight.
Schools in Fairfax, Prince William, Loudoun, Stafford and Arlington counties in Virginia cancelled class Thursday. In Maryland, schools in Prince George's, Montgomery, Frederick, Charles, St. Mary's, Howard and Anne Arundel counties were closed.
D.C. Public Schools were initially on a 2-hour delay, but they also closed their doors Thursday.
Less than an inch of snow fell in Washington, D.C., Thursday, leaving area roads slick for the morning commute.
Federal agencis in the D.C. area are open Thursday, but they are under a 2-hour delay. Employees have the option for unscheduled leave or telework.
Culpeper County Public Schools will open two hours late on Thursday. Fauquier County Public Schools will open two hours late Thursday and Friday.
Howard University tweeted that it would be closed Thursday and Friday due to campus-wide heating issues. The university said students who live on campus should try to avoid coming back from winter break until Sunday.
The Ocean City boardwalk IS under there! Could see as much as 8 inches of snow out here! pic.twitter.com/dgPL0c4Esh

— Justin Finch (@JustinNBC4) January 4, 2018
A full list of school closures and delays can be found here.
Amtrak announced its Northeast Regional service between D.C. and Newport News/Norfolk, Virginia, is cancelled on Thursday.
Virginia Gov. Terry McAuliffe declared a state of emergency Wednesday afternoon, warning that continued bitterly cold weather will be aggravated by a storm that could dump a foot of snow on parts of the state.
According to a statement from the governor's office, that action authorizes state agencies to help local governments to respond to the storm for up to 48 hours.
The Virginia National Guard has been authorized to bring up to 150 additional personnel on state active duty and 30 vehicles to during the storm.
A state of emergency is also in effect on parts of Maryland's Eastern Shore.
Gov. Larry Hogan issued the declaration late Wednesday for the Lower Shore, including Somerset, Wicomico and Worcester counties.
Snow totals reached almost nine inches near Ocean City and 10 inches in Salisbury, which were under a blizzard warning Thursday.
Local
Washington, D.C., Maryland and Virginia local news, events and information
Parts of Southern Maryland also reported significant snow accumulations.
Wind restrictions were put in place Thursday on the Chesapeake Bay Bridge. The Coast Guard restricted ships from entering the Port of Baltimore.
In D.C., the city is providing access to emergency shelter and overnight warming sites. Call 311 or 202-399-7093 for help.
The snowstorm sweeping up the East Coast ruined travel plans for many, with thousands of U.S. flights canceled.
Airports in the New York City area and Boston have been particularly hard hit, with more than two-thirds of flights in and out canceled.
The airline-tracking site FlightAware is reporting more than 3,200 canceled flights within, into, or out of the United States on Thursday.
The massive winter storm is sweeping from the Carolinas to Maine, dumping snow along the coast and bringing strong winds.
Linda Heuman and Amy Remensnyder were supposed to fly to Berlin on Thursday, but the flight was canceled. That left them stuck in their home in Providence, Rhode Island. Their plans for the rest of the day were simple: They were going to make some soup and maybe watch a movie.
This brutal cold isn't going anywhere anytime soon.
Expect temperatures below freezing through the first week of the new year, Storm Team4 says.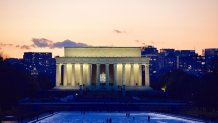 Friday is looking like it will be our coldest day in the near future. We're looking at a high of 19 and low of 9.
When it's this cold, frostbite can set in on exposed skin in as little as 30 minutes, the National Weather Service warned.
The cold can be deadly. D.C. is giving access to overnight warming sites, emergency shelters and transportation to warmth and safety. To request transportation to shelter for anyone in D.C. who is experiencing homelessness, contact the toll-free Shelter Hotline at 202-399-7093, or call 311.
Here's what we're looking at for the rest of the week.
Thursday is set to be chilly, with a high to 28 and low of 24. Then, Friday will be even icier, with a high of 19 and low of 9.
On Saturday, expect similar cold -- with a high of 18 and low of 7. Then, Sunday will warm up slightly, with a high of 24 and low of 5.
Here are 20 ways to stay warm and safe amid this bone-chilling weather.
Check weather alerts in your area

Get the latest weather from NBCWashington.com:
Download our free weather apps for iPad and iPhone. You can also follow us on Twitter and Facebook, and sign up for our e-mail newsletters.
Copyright AP - Associated Press