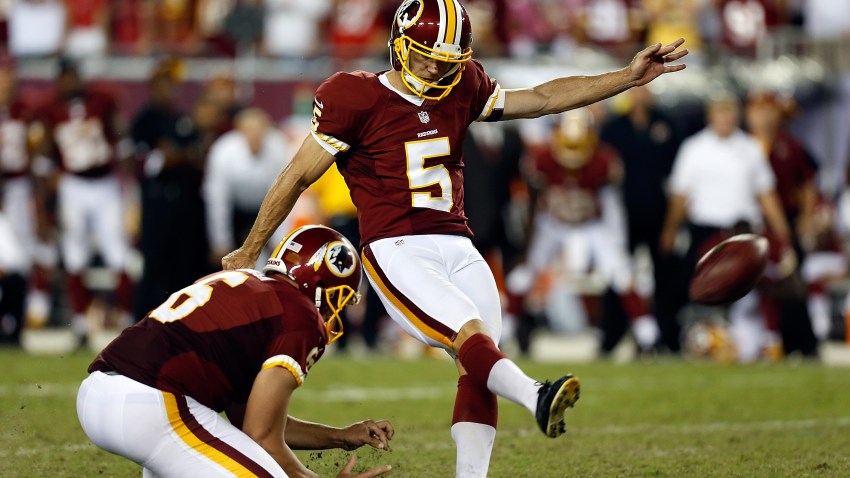 Redemption, thy name is Cundiff.
The Redskins' kicker missed three field goals, but hit one when it mattered with three seconds left to lift Washington to a 24-22 victory over the Tampa Bay Buccaneers.
Cundiff, who missed the potential game-winning field goal in the AFC Championship Game last season as a member of the Baltimore Ravens, missed attempts from 57, 45 and 31 yards throughout the course of the game, but with the Redskins seconds away from officially blowing a 21-3 lead, Cundiff straightened up and his 41-yard kick flew right through the uprights, albeit barely.
While Cundiff's missed kicks could have padded the Redskins' lead if successful, they could have avoided putting him in such a pressure-filled situation if they would have kept Tampa at, well, bay. As previously mentioned, the 'Skins allowed 19 unanswered points as the defense could not get off the field. A fumble recovery by Pierre Garcon and rushing touchdowns by Robert Griffin III and Alfred Morris gave the Redskins an early 21-3 lead.
After Tampa Bay took a 22-21 lead on a Connor Barth field goal with 1:47 left, Griffin led Washington on a seven-play, 56-yard drive to set up Cundiff's game-winner.
So put down your pitchforks, douse those torches and cancel your Cundiff-related pillaging plans. For now.
---
Follow Adam on Twitter @AdamVingan and e-mail your story ideas to adamvingan (at) gmail.com.