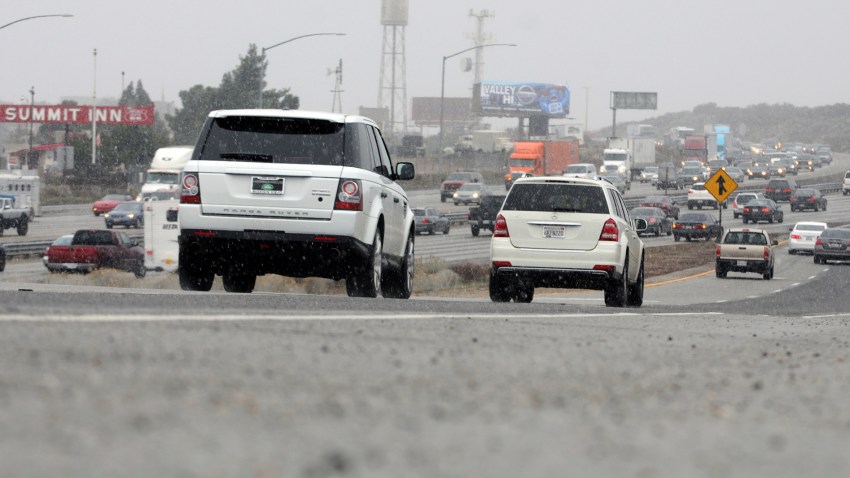 A dusting of snow is possible for D.C. and its suburbs Friday, NBC Washington meteorologist Doug Kammerer predicted.
Of more interest to the area, Kammerer said, is the cold blast expected to follow. A cold air mass that could affect up to two-thirds of the country may also lead to a snowstorm next week. But in the days ahead, it means high temperatures in the low-to-mid-30s and lows in the low-to-mid-20s through the weekend.
Drivers should be wary of light snow Friday morning, and there is a chance of scattered light snow showers during the day, mostly to the north of D.C., Kammerer said. There's also a slight chance of snow Saturday. Expect Saturday and Sunday to be windy and cold.
The D.C. Department of Transportation will deploy its snow team at 3 a.m. Friday to spread salt. Brine has already been sprayed to treat bridges, overpasses and other elevated structures. Overnight air and pavement temperatures will be below freezing, so any snow that does fall is likely to stick.
There's a chance for more significant snowfall next Tuesday and Wednesday, Kammerer said.
---
Weather on the Web:
Get the latest weather from NBCWashington.com anytime, anywhere:
Follow Chief Meteorologist Doug Kammerer on Twitter and follow NBCWashington on Twitter and Facebook. Sign up for our e-mail newsletters and get breaking news delivered right to your mobile phone -- just text DCBREAKING to 622339 to sign up. (Message and data rates may apply.)