A baby girl has been found safe after being abducted by her father, a convicted sex offender, officials said Tuesday. Her father is in custody in North Carolina.
Emma Grace Kennedy, seven months, appeared to be in good health and was being evaluated at a local hospital, authorities said. The mother of the baby has been notified.
A frantic search had unfolded since Carl Ray Kennedy, 51, assaulted the baby's mother at knifepoint and took the baby from a gas station in Danville, Virginia, about 7:55 p.m. Sunday, according to the FBI.
An Amber Alert was issued for the little girl as federal and local officials sought Carl Kennedy. Authorities said he could be driving one of four cars with one of three license plates.
He was arrested in Randleman, North Carolina, by Danville police, the FBI, the Randolph County Sheriff's Office and U.S. Secret Service, authorities said Tuesday.
In an apparent attempt to travel unnoticed, Kennedy was found in a gold car that had been painted black. A concerned citizen noticed the car anyway.
Kennedy does not have legal custody of the child.
The FBI said during the search that he should be considered armed and dangerous. He was possibly seen near Seven Spring, North Carolina, about 6:30 p.m. Monday and may have been headed to Oak Island, North Carolina, authorities said.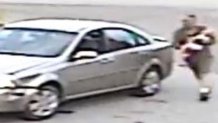 The baby was taken from the Kwik Stop on Riverside Drive in Danville, about three hours southwest of Richmond, on the North Carolina border.
Local
Washington, D.C., Maryland and Virginia local news, events and information
Virginia State Police issued an Amber Alert and said the infant was believed to be in "extreme danger."
"My worst fear is that she is just on the side of the road somewhere or left alone," the baby's aunt, Amy Metzger, told WAVY-TV. "She just brightens our lives and she is adorable and happy and healthy."
Kennedy is listed as a sex offender in North Carolina. State records show he was convicted of sexual battery in April 2014 and imprisoned for nearly two years.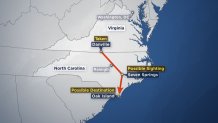 Authorities said that, at the time of the abduction, he was currently out of jail on $250,000 bond for drug distribution.
Copyright AP - Associated Press