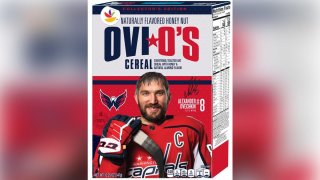 Some D.C. hockey fans and cereal lovers are in for a sweet Valentine's Day surprise.
Autographed photos of Washington Capitals star Alexander Ovechkin are hidden in 50 boxes of Ovi O's cereal at Giant stores, the supermarket announced Wednesday.
The limited-edition honey nut cereal went on sale in September. A portion of proceeds benefit the Children's Cancer Foundation, Ovechkin said.
A 12.25-ounce box of the cereal sells for $2.69.