Two arrests have been made in the 2015 death of a 21-year-old Virginia woman who was found shot to death in her car less than two hours after going out.
Joshua Christopher Williams, 29, and Jonathan Julian Vejarano, 28, were charged Monday in the death of Heather Ciccone, the Spotsylvania County Sheriff's Office announced Tuesday.
Ciccone was found dead in her car in a Spotsylvania County driveway on Dec. 6, 2015.
On the night she was killed, Ciccone's parents said she received a call at 9:30 p.m. and told them a friend's car had broken down. She left her family's home in Spotsylvania around that time.
Ciccone -- whom family and friends called Boo Boo, a childhood nickname -- said she would be back. It was the last time they saw her alive.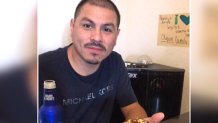 "I said 'I love you,' and she goes, 'I love you too, Mom,'" said her mother, Stacy Ciccone, shortly after the young woman's death.
Local
Washington, D.C., Maryland and Virginia local news, events and information
An hour and half after Heather Ciccone left home, a resident of the 10300 block of Piney Branch Road called police and said an unfamiliar car was parked in his driveway, police said.
The car was Ciccone's, and her body was found inside. Police say she had been shot in the back of the head.
Investigators knocked on her family's door about 2 a.m.
"It's hard to put in perspective until it really happens to you," Ciccone's father, Dennis Ciccone, said.
Williams was indicted Monday and charged with first-degree murder and use of a firearm in the commission of a felony. Investigators say Vejarano has been charged with first-degree murder, use of a firearm in the commission of a felony and possession of a firearm by a convicted felon.
Authorities have not said whether the suspects and Ciccone knew one another.
The young woman had worked as a waitress at a Red Robin restaurant in Fredericksburg, coworkers said. Her sister told WTVR-TV in Richmond that Ciccone, a former Chancellor High School student, had recently received death threats.
Both Williams and Vajarano are being held at local regional jails.