Federal investigators have made an arrest in last month's attempted arson at the National Archives, home to the nation's most treasured documents, including the Constitution and the Declaration of Independence.
Jacob Wallace of Washington, D.C. was arrested in connection with the April 25 fire, the News4 I-Team has learned.
Security camera footage obtained by News4 shows images of someone wearing dark clothes and a hood walking to an outside corner of the building and setting a gas canister ablaze. As the person ran away, the glow from the fire can be seen in the corner.
Federal agents say they found the man sitting on a bench on the north side of the White House. According to federal court filings, Wallace acknowledged setting the fire outside the Archives complex. Wallace called the FBI from a Safeway grocery store in northwest D.C. to admit his role in the attempted arson.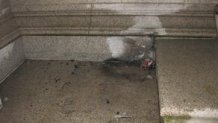 A grand jury has indicted Wallace on a federal charge. No attorney information or contact information for Wallace was immediately available. The court filings said Wallace would later deny setting the fires, during follow-up conversations with agents.
Local
Washington, D.C., Maryland and Virginia local news, events and information
According to a federal court filing, Wallace told FBI agents he was "hearing voices and believed someone was following him related to his being a confidential informant while in the state of Kentucky."
Security staff attempted to douse the flames, but had to call D.C. Fire and EMS crews to assist in doing so. Damage was visible to some of the exterior wall.
"Somebody could have really gotten hurt," National Archives Security Director Dave Adams told News4. "The building could have gotten significant damage if the fire wasn't put out so quickly. We also have very important documents in the building, so obviously a fire is detrimental to that."
The National Archives is the nation's record keeper, holding the documents deemed important enough for legal or historical reasons to be kept forever. It welcomes tens of thousands of visitors each year.