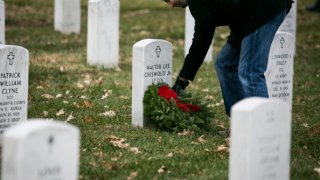 Army Secretary Ryan McCarthy told Arlington National Cemetery to safely host the annual Wreaths Across America event a day after its cancellation was announced amid concerns as cases of COVID-19 continue to rise throughout the region.
"We appreciate the families and visitors who take time to honor and remember those who are laid to rest at our nation's most hallowed ground," McCarthy said on Facebook.
Stay informed about local news and weather in the D.C. area. Get the NBC4 Washington app for iOS or Android and pick your alerts.
"After learning of Arlington's decision last night, the team here jumped into action to help clarify misinformation being shared online about the program and discuss other options we could bring to Arlington National Cemetery's leadership in an effort to determine how we can work together to find a safe solution to continue this important tradition," Wreaths Across America Executive Director Karen Worcester said in a statement.
"We were able to have these discussions with the cemetery's leadership team, and they have informed us of their willingness to work with us to develop other options to allow for the safe placement of veterans' wreaths this December," the statement said.
Local
Washington, D.C., Maryland and Virginia local news, events and information
Hundreds of volunteers lay wreaths at the gravesites of veterans and fallen service members at the cemetery every December 19. The Army secretary said Arlington National Cemetery will provide an updated schedule.
Cemetery officials had said they canceled this year's wreath-laying after determining there was not a way to mitigate the risks of such an event. They consulted with local government and public health officials.
Coronavirus cases and deaths are climbing in D.C., Maryland and Virginia.
D.C. announced 245 new cases Tuesday. Maryland announced 2,149 new, and Virginia announced 2,071 new cases.
Family pass holders and visitors can visit the cemetery and place graveside tributes of privately purchased flowers or wreaths.