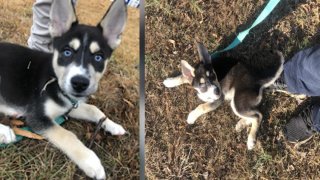 A puppy stolen at gunpoint in Landover, Maryland, on Monday will soon be back in his owner's arms. Someone spotted the pup in D.C., police say.
A man told Prince George's County police he was walking his dog, named Lobo, about 1:30 p.m. in the area of Kent Village Drive and East Ridge Drive.
He saw a car pass him and pull over a short distance ahead. Then, a woman with face tattoos got out of the car, walked to the trunk and went up to him from behind with a gun, demanding the puppy, police said.
The victim grabbed the weapon and got into a struggle with the woman over the gun. He let go of the gun when he saw a second suspect, a man, approach them, police said.
Then, the woman pulled the gun's trigger several times, but the gun didn't fire, according to police. She grabbed the puppy and the two suspects sped off.
Police said the victim suffered minor injuries.
On Tuesday afternoon, Prince George's County police tweeted Lobo was found in D.C.
"Great news! We've recovered Lobo! A citizen spotted the pup this afternoon in the District. Thank you all for sharing Lobo's story on social media!"