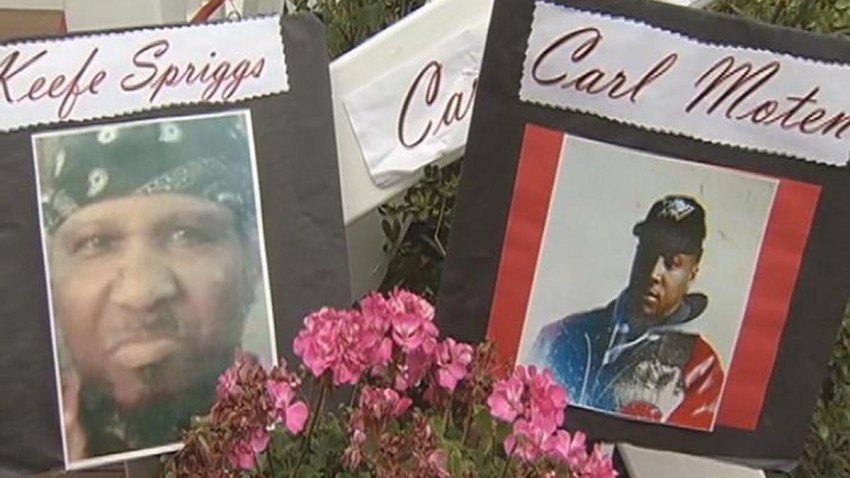 An Arlington community peacefully walked the streets near High View Park Friday evening seeking answers in the brutal 2012 murders of two men, Carl Moten and Keefe Spriggs.
Outside of Spriggs' mother's home, two houses down from the crime scene, sit two crosses with each of the victim's names.
"In the mirror, when I get up in the morning to go brush my teeth, I see him because he looks just like me," said Ethel Lee Spriggs. "I'll be so glad when it's over and find out who did it."
On Aug. 7, 2012, a maintenance man found the two men inside their apartment amid a gruesome crime scene.
The causes of death, according to Arlington County Police, were blunt force trauma.
Spriggs' sister, Sharon, is desperate for answers.
"It's hard because ... I mean they took him away on my birthday," she said. "… You didn't have to take them like that."
Chavonne Baker is mother to Moten's now 12-year-old daughter.
"It's very frustrating because it's definitely not going to bring him back but it'll give us some sense of peace," she said. "I pray daily that it is solved because it is a complete hole in our heart and even knowing won't fill it. But it will give us a bit of sense of peace."
Police are working new leads.
Lead detective Rosa Ortiz said this case in particular is troubling.
"The fact that you can't tell the family what happened ... give a mother an answer …," she said. "People out there know what happened. They have the knowledge. They have the information."
Spriggs' mother, Ethel, is adamant: she doesn't want her son's killer or killers to face the death penalty.
"Because that's not solving anything. I just want them to be punished, not to kill them," she said tearfully.