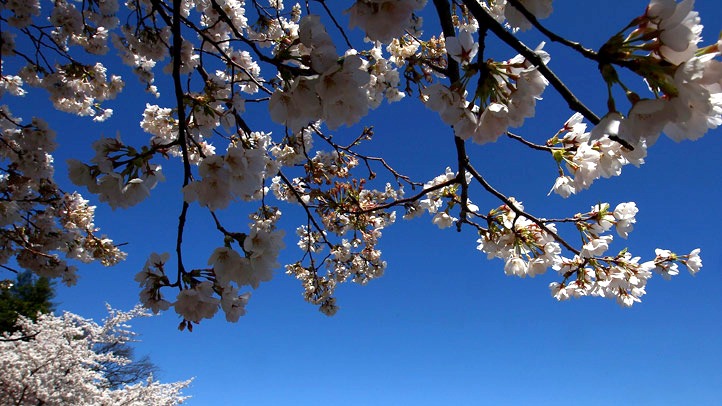 Get ready to make some hotel reservations for all those eager out-of-town friends and relatives.
The planners of the Cherry Blossom Festival announced the blossoms' peak blooming period today. Joe DeFeo, chief horticulturalist with the National Park Service, predicts the peak will happen between March 29 and April 3.
Peak bloom is the period when 70 percent of the blossoms are open. Cherry blossoms can last up to 14 days if the weather cooperates, so the bloom period typically extends several days before and after the peak.

DeFeo reports that the 3,000 cherry trees are healthy and were not damaged in any of the severe storms that hit the area in recent weeks.
Of course, the dates for the festival are already established. This year it's running from Saturday, March 26 through Sunday, April 10.
The festivities are punctuated by notable events such as the Cherry Blossom 10-Miler (April 3) and the Sakura Matsuri Japanese Street Festival (April 9), plus daily music and dance performances.

This year, for the first time, the street festival will cost adults an admission fee of $5. Kids can still get in for free, and all other events are free. (Except for the Ten-Miler, but you would have had to have signed up ages ago, been selected by lottery, trained for it, and... oh, aren't you getting tired by now?)

Something else new and notable: This year, you can buy a tree from the Arbor Day Foundation's nursery, and a portion of the proceeds will benefit the festival.
---
Check Out the Scene: Keep up with what's happening in the D.C. area anytime, anywhere. Follow us on Twitter and Facebook. Sign up for our e-mail newsletters. Don't forget our iPhone app!