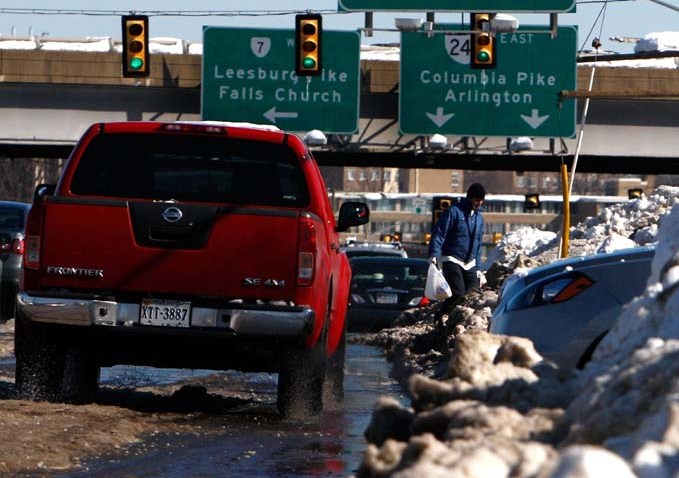 Many area residents were given a practice commute Tuesday morning, and it proved to be a bear.
With lanes on some streets still impassable due to snow and ice, a lot of bottlenecking led to backed up traffic and longer than usual rush hours. It's barely an exaggeration to say the morning rush overlapped the evening rush.
Thankfully, many school districts opened two hours late, as did the federal government. Many people won't be so lucky Wednesday. Commuting is expected to be rough again, but federal agencies will open on time, as will public schools in Montgomery County, Md., and Fairfax and Arlington counties in Virginia.
In Maryland, Frederick County schools will remain closed Wednesday. Howard and Anne Arundel county schools will open two hours late. And Charles County schools will be on a one-hour delay.
In Virginia, schools in Prince William, Culpeper, Stafford and Spotsylvania counties will open two hours late, as will Alexandria city schools. Loudoun County schools already announced one-hour delays for the rest of the week.
In Spotsylvania County, classes at Chancellor High School have been canceled for the rest of the week, as the load of snow on the roof approached maximum weight.
Students in Prince George's County, Md., will finally return to classes Wednesday. Schools will open two hours late through the week. In some areas, bus stops still haven't been shoveled and some streets around schools have not been completely plowed. At Marlton Elementary in Upper Marlboro, pathways have been cleared over grass so children don't have to walk in the street. School officials requested extra police officers and crossing guards to keep an eye on students.
Anne Arundel County Executive John Leopold also ordered an increased police presence to help students get to school safely. Alexandria is increasing the police presence around schools Wednesday, too.
D.C. schools and government opened on time Tuesday.
Click here for a complete list of closings.