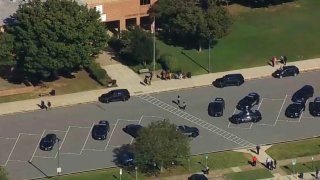 Two students were hurt and seven students face charges after a stabbing and fight at Annapolis High School Wednesday morning. The violence prompted a lockdown that was later lifted.
Two students were "cut/stabbed" in the school, Anne Arundel County police said in a statement.
One student was charged with attempted second-degree murder, assault and possession of a deadly weapon on school grounds, among other charges.
Another student was charged with trespassing and assault, among other charges.
Five other students were charged with assault and other charges. All seven young people were charged as juveniles. One of the students taken to a hospital is among those charged.
Both students who were hurt had injuries that were believed to be non-life-threatening, county police spokeswoman Lt. Jacklyn Davis said at a news conference.
The school's two school resource officers (SRO) were walking in the school's hallways and saw a fight at the top of a stairwell at about 8:45 a.m., Davis said.
"He has a knife! He has a knife!" a teacher cried out.
The SROs were able to disarm the student quickly, without using force, Davis said.
Two students were taken to hospitals, and seven students were detained.
The school was locked down, and families were asked not to try to pick up their students. The lockdown was lifted after less than an hour-and-a-half, at about 10:10 a.m., Davis said.
Additional students could be charged, Davis said. 
Police believe the fight stemmed from a conflict in the community earlier this month.
Davis thanked the SROs for disarming the armed student.
"The SROs really potentially could have saved a lot more trauma and injury at the school," she said.
A number of communities in the D.C. area have opted to withdraw SROs from schools for the 2021-2022 school year, a review by the News4 I-Team found. Others increased their forces and pledged to further bolster their programs.
Anyone with information on the crime at Annapolis High, or video footage, is asked to contact police.
Stay with NBC Washington for more details on this developing story.