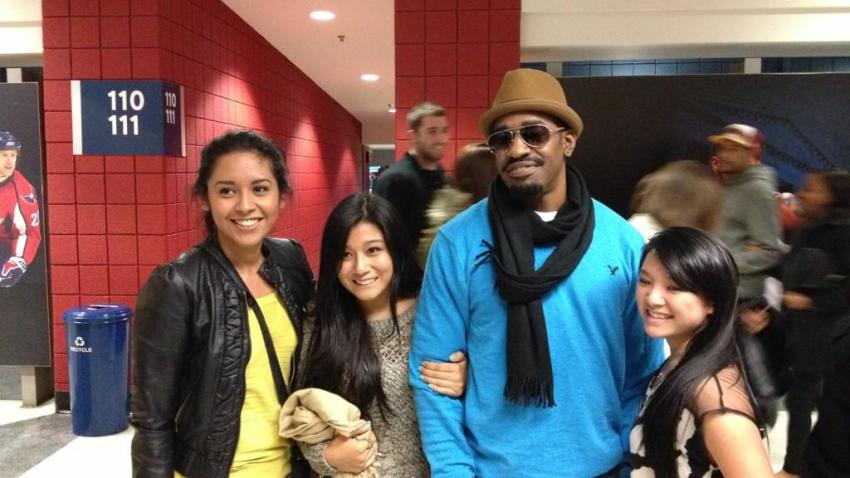 During the Washington Wizards' game against the Atlanta Hawks Tuesday (note: they lost again), the crew at Verizon Center played Outkast's "Hey Ya!" during a break in the action. While doing so, the scoreboard panned to a shot of one half of the hip-hop duo, Andre 3000, sitting in the crowd.
People got excited, tweeted about it and even took pictures with Three Stacks like the one above. Only one problem: it wasn't him.
That is what the venerable Dan Steinberg came to find out after writing a post about it. And as he always does, he got to the bottom of it:
The Wizards played Outkast while showing this chap on the big screen, but they never announced it was him. A team spokeswoman says they knew all along it was just some guy.
To everybody's credit, but especially "Andre 3000," he's a pretty convincing doppelgänger. He's got the facial hair (obviously sculpted using the Gillette Fusion ProGlide Styler) and a similar face in general, but a few things stuck out to me:
Dude's too big to be Andre 3000. The real one is rail thin.
His clothes are too baggy.
I don't think Andre 3000 has ever/will ever wear American Eagle.
Take these with a grain of salt. I am a 23-year-old white Jewish man.
Anyway, we all got a laugh out of it, and the Wizards distracted us from yet another loss (3-19, by the way). It's only a matter of time before somebody wonders if the Wizards themselves are impersonating a basketball team.
---
Follow Adam on Twitter @AdamVingan and e-mail your story ideas to adamvingan (at) gmail.com.