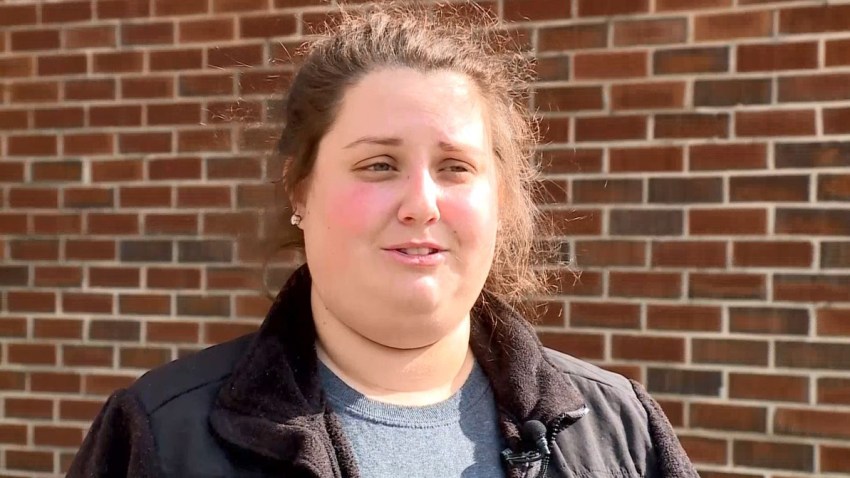 An MS-13 gang member charged in the brutal killing of a 15-year-old girl has been found guilty.
Wilmer Sanchez Serrano, 21, was convicted Tuesday of second-degree murder in the death of Damaris Alexandra Reyes Rivas. The 15-year-old Maryland girl was tortured and found dead in Virginia earlier this year.
Serrano also was convicted of abduction and gang participation. The jury asked the judge that he get 33 years in prison.
During Serrano's trial, jurors sat in stunned silence as they watched video of the deadly attack on Reyes Rivas. The video included footage of Reyes Rivas being tortured and stabbed. The teen's family members and Serrano cried as the video played.
"As a reporter who has covered murder trials for years, I have rarely seen anything more disturbing," News4's Chris Gordon said.
In court Monday, Serrano admitted to stabbing Reyes Rivas but said he didn't want to. MS-13 members made him, he said.
Prosecutors said in closing arguments: "He purposefully impaled her with that stick over and over and over and over. This was not someone who was forced into participating."
Serrano's defense said, "He's guilty of murder, but not first degree. Acting out of fear and panic is not first-degree murder."
Reyes Rivas had been missing from her Gaithersburg home for two months before her body was found near an industrial park in Fairfax County, Virginia, in February. Before she left her home, she told her mother she was being threatened by gang members at school.
Investigators believe Reyes Rivas' was killed to avenge the death of Christian Sosa Rivas, whose body was found Jan. 12 along the Potomac River near Dumfries, Virginia.
Search warrants show Reyes Rivas -- who was slain less than a month after Sosa Rivas -- was one of the last people to see him alive. Court documents suggest Reyes Rivas may have been blamed for helping to lure Sosa Rivas to his killers.
Ten alleged gang members have been charged in Reyes Rivas' death, including Sosa Rivas' girlfriend, Venus Romero Irahete.
Investigators believe Irahete was the chief attacker. Investigators portrayed her as bent on revenge and wanting to inflict some of the fatal wounds herself.
Authorities say Reyes Rivas was picked up in a car and taken to Lake Accotink in Springfield, Virginia, on Jan. 8. The group assaulted her and made her stand in snow without her shirt or shoes.
They then interrogated her about Sosa Rivas' death.
Iraheta told investigators she stabbed the girl 13 times and sliced off a tattoo, according to testimony.
"She told the victim she would never forgive her," FBI Agent Fernando Uribe said. "She would see her in hell. She would never forget her name."
Three of the suspects in Reyes Rivas' death pleaded guilty last month. Cindy Blanco Hernandez, 19, pleaded guilty to two counts of abduction by force and the abduction of another juvenile female in early January. Aldair Miranda Carcamo, 18, pleaded guilty to gang participation and two counts of abduction by force. Emerson Fugon Lopez, 17, pleaded guilty to abduction in connection with Reyes Rivas' death and gang participation.
They will be sentenced on May 5.
Four others, including Iraheta, are set for trial in the coming months. Two other juvenile females also are charged. One waived her preliminary hearing and will tried as an adult. The other is being handled in juvenile court.
A judge will set Serrano's sentence in March.