Charles County Police hope a new facial reconstruction image will help them discover the identity of a woman found dead more than 20 years ago.
The victim, known as Jane Doe, was found in a wooded area near Crain Highway on June 16, 1998. She wasn't wearing any clothes and had been violently beaten. Police say she died of suffocation.
Police checked Doe's information against fingerprint and DNA databases, but couldn't find any matches. In 2005, police publicized a facial reconstruction sketch, but no one called in with a lead.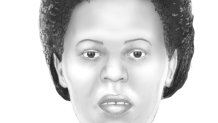 Twenty years after discovering Doe's remains, police say the case is cold. But technological developments that allow forensic experts to enhance images could reignite the investigation.
After finding a handwritten note in Doe's case file, police rendered a realistic facial reconstruction image showing her with straight hair.
Lt. Don Stahl said he hopes someone who knew Doe will recognize the picture and provide her real name.
Local
Washington, D.C., Maryland and Virginia local news, events and information
Not knowing the woman's name presents a huge obstacle in solving the case, Stahl said.
"There's a family out there somewhere that has no answers on what happened to their daughter, or their mother or their sister," he said. "I am very hopeful."
Doe was likely between the ages of 25 and 35 when she was killed. Police say she was black and light-skinned with no visible marks, scars or tattoos. She stood between 5 feet 4 inches and 5 feet 7 inches tall and weighed between 115 and 135 pounds, police say.
Anyone with information about the crime should contact Charles County Police. There is a $1,000 reward for information that leads to an arrest or indictment.