An animal shelter in Fredericksburg, Virginia, is making sure some of its longer-term residents get the fresh air they need and deserve.
The Fredericksburg SPCA's Adventure Tails program allows animal lovers to visit the shelter and take a cat or dog out for the day.
"People think the jumping and barking is how they'll act at home, and it's not. This lets the public see what they're like outside," said Von Young, a social media specialist at the shelter.
The SPCA hopes Adventure Tails and other programs will help break down some of the barriers that keep potential pet owners from adopting, and they've already seen some results.
Since the program's start in April 2017, the shelter has seen a 20 percent increase in adoptions.
"People see a shelter as a jail and it's the complete opposite. We want the animals to feel like they're in a hotel, so taking them out really does help them," Young said.
Here's how it works.
Local
Washington, D.C., Maryland and Virginia local news, events and information
Anyone over age 18 can go to the shelter during its normal operating hours and ask to participate in the Adventure Tails program.
If you don't have a lot of experience with pets, don't fret! The SPCA will pair you with an animal that suits your needs and experience level. But pets who have been at the shelter longer are typically at the top of the Adventure Tails list.
Before you leave, staff members will outfit you with a swag bag, complete with Adventure Tails-themed gear, waste bags, water and a collapsible bowl.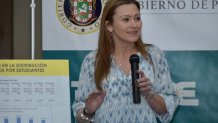 Cat lovers will get a stroller or a plastic backpack with a pod-like window to transport their feline friend.
"Cats can be very stressed out when taken out of the environment they know, but we have lots of cats that love getting out," Young said.
There are many activities you can do with your cat or dog, but Young said most participants take their new furry friend to one of the city's many parks and trails.
The SPCA has also partnered with businesses in downtown Fredericksburg to offer treats and discounts to anyone who stops by, which Young says makes a great date night.
In addition to granting some of the shelter's most stressed and long-term residents some time away, Young said the program also helps the shelter learn more about the animal. When dogs and cats are returned to the shelter, participants are asked to fill out a form on how the animal behaved during their adventure.
"We may not have had that information before," Young said.
The Fredericksburg SPCA is open seven days a week from noon until 6 p.m. For more information about the program, click here.