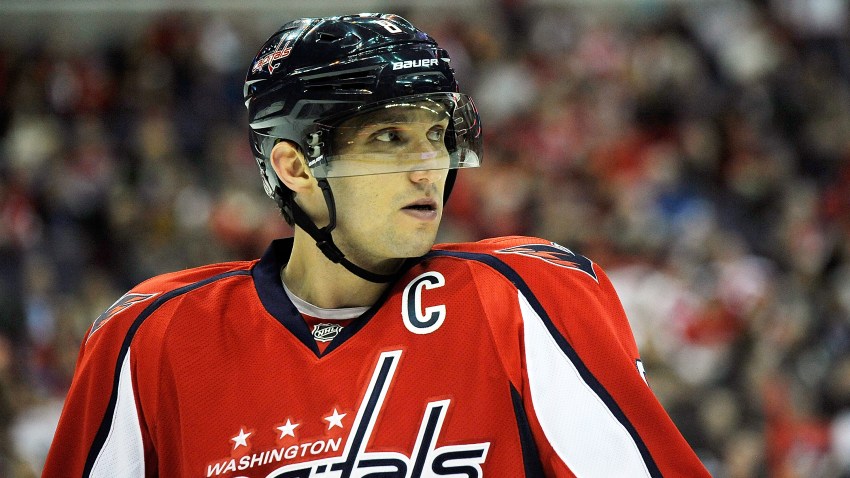 Presented without comment, a cake with Alex Ovechkin and "lucky guy" James' faces on it:
Now to comment. Ovechkin tweeted this picture of himself with James, who won a contest sponsored by Cadbury's "Mr. Big" candy bar (for those curious, it is available in Canada and tastes like a Mallomar), which features Ovechkin as its cover/wrapper athlete. As the winner, James (who attended the Washington Capitals' practice Thursday) won an all-expenses-paid trip to Washington and had the opportunity to spend two hours with Ovechkin while choosing from one of three activities:
Get a front row seat to a show at Washington Fashion Week
Have dinner at a restaurant/play games at an arcade
Join Ovechkin for a home-cooked meal at his house
I can only imagine what going to a fashion show with Ovechkin is like, especially if he wears this.
Coincidentally, less than 24 hours after Ovechkin tweeted a picture of a cake, his weight came into question again. In an interview with ESPN 980 Tuesday that was transcribed by D.C. Sports Bog's Dan Steinberg Thursday, General Manager George McPhee discussed Ovechkin's commitment to the game, which, according to McPhee, is "a lot better than it was."
"He's in terrific shape right now. And guys do different things in the summer. Ovi's usually gotten by by just being a great athlete. Show up and play. And we've talked to him, that doesn't happen in this league. At some point it has to kick in, you have to train, and he's at 224 right now. And he hasn't been at 224 in a few years."

So McPhee was then asked about Ovechkin's previous weight.

"I think the progression in his weights, he came in 218, 224, 232, 237, 242," McPhee said, which doesn't exactly reflect the team's prior reports. "He played at 242 once, and he got suspended for hitting a few people. And he was crushing guys, and he loved crushing guys, and we said you know what, Bruce always thought he was a better player at about 227. And you can see it when he's moving out there, he's flying."
Ovechkin's weight was a hot topic during the offseason, starting with an unflattering angle during an interview with WashingtonCaps.com Senior Writer Mike Vogel and continuing on to the announcement of his endorsement deal with Bauer in August. If Ovechkin was playing at 242 pounds, it would make him the 15th-heaviest player in the league, according to NBC's Jason Brough, but considering McPhee's statement that he "got suspended for hitting a few people," one can assume that Ovechkin may have played at 242 pounds in 2009-10, when he was suspended twice for doing just that.
Regardless, Ovechkin has apparently lost enough weight to be explosive once again, according to McPhee. Though, just to be safe, lay off the candy bars and cakes with your face on them, Ovi.
Meanwhile, you would think that the arena that the Caps inhabit, named after a telecommunications company, would have great Internet service, but as fans and media members can attest to, that is not the case. Verizon Center's spotty wireless internet connection has officially been graded by Sports Business Journal and let's just say that the ratings were not so good.
Using AT&T's iPhone 4S, John Ourand rated Verizon Center on five topics using a scale of "poor," "moderate" and "excellent." "Watch video" and "upload a photo" received "poor" ratings, while "ability to make calls," "use an app" and "search the Web" received "moderate" ratings. Of the four arenas tested, Verizon Center was the only one that did not receive any sort of "excellent" rating.
Verizon claims to have "the most reliable service on the nation's best wireless voice and data network," but apparently cannot provide that inside a building with its name on it. I guess "AT&T Has Horrible iPhone Service" Arena does not have the same ring to it.
---
Adam Vingan is co-founder and editor of Kings Of Leonsis, a Caps-centric blog, and is the Capitals Editor for SB Nation. Follow him on Twitter @Adam_KOL and e-mail your story ideas to adamvingan (at) gmail.com.