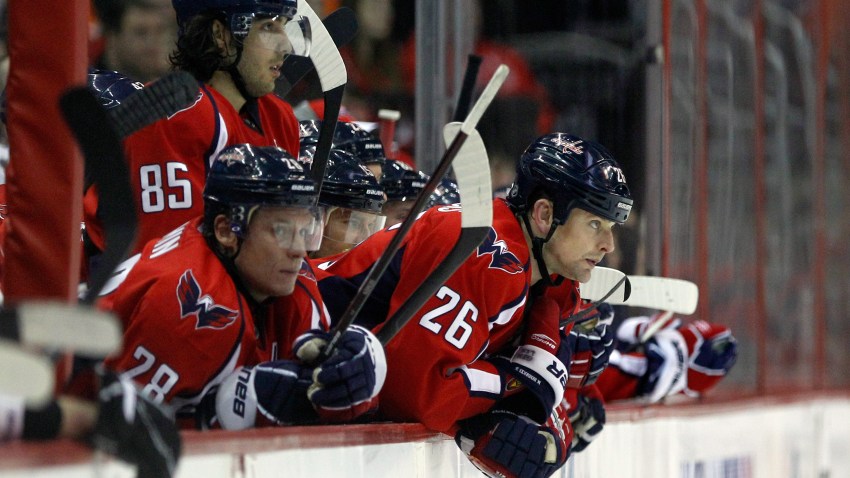 Sports teams, like onions and ogres, have layers. They can stink and make you cry, but that is besides the point. It takes a team to run a team. Once you sift through the surface layers - players, coaches, management - you find the pieces that may not get the recognition that they deserve for what they do to keep things running smoothly.
In the case of the Washington Capitals, that piece is head equipment manager Brock Myles. Courtesy of Gemma Hooley and Chris Nelson of Media Chameleon, creators of the brilliant "Hockey Diaries," take a look at one of the most stressful parts of hockey season - the trade deadline - through the eyes of Myles.
While most of us, including the players themselves, are glued to their phones or televisions on Deadline Day, equipment managers like Myles are making sure that everything is in order for the new acquisition upon his arrival (Myles must have had a quiet day last Tuesday since the Caps did not make any moves). Documentaries like the one above really bring to light how important every member of an organization really is. Even me. I have some sort of importance to NBC Washington, right? Right?
Self-loathing aside, the Caps will look to neither stink nor make their fans cry Tuesday in the fourth game of a five-game homestand against the Carolina Hurricanes at Verizon Center. To be frank, the Caps did indeed stink this weekend, losing Friday and Sunday by a combined score of 6-0. Washington is now three points behind the eighth and final playoff spot in the Eastern Conference, so while a win would not put it back into the playoff picture, it would certainly help regardless.
Hey, at least the Caps are not the Washington Redskins, who are in the midst of the "bounty" scandal that broke last week involving former defensive coordinator Gregg Williams (though I would not be surprised if the Caps were happy for not being the Redskins regularly). According to interviews from The Associated Press, the Redskins did not receive money for injuring players, but did use cash-based incentives to motivate players to make big plays.
Perhaps the best explanation came from linebacker Lorenzo Alexander:
"If you have, like, a big hit, you could possibly get a kitty," Alexander said. "But not to say, 'You have to knock this player out,' and knock him out of the game with an injury. So it wasn't a bounty-type thing."

"Each (position) group had a little kitty," Alexander said. "If you do something stupid, you pay 20 bucks into it and then, from time to time, whoever's the veteran or whoever's the leader in that room would say, 'Whoever gets an interception, you get an X amount of dollars from the kitty.' It was nothing malicious."
I can't be the only one thinking about this now, can I?
I think I may have also found the Redskins' cash receptacle.
---
Adam Vingan is co-founder and editor of Kings Of Leonsis, a Caps-centric blog, and is the Capitals Editor for SB Nation. Follow him on Twitter @Adam_KOL and e-mail your story ideas to adamvingan (at) gmail.com.