The following content is created in consultation with Sentara Healthcare. It does not reflect the work or opinions of NBC Washington's editorial staff. Click here to learn more about Sentara Healthcare.
Prince William County resident Becky Turner had been living in pain for years.
"I had been to surgeons all over the area trying to get some relief. It was to the point where I had to use a wheelchair a lot of the time. At the very least, I had to use a walker," explains the 63 year old. As her crippling back pain increased, so did her weight. "Everyone said, there was nothing they could do for me," she remembers.
Until her primary care physician suggested gastric bypass surgery, sharing how another patient received relief after undergoing the procedure. From there, an idea was born. "I thought about it for a while and I thought, let's see what's involved," says Turner.
That's when she met Dr. Masoud Rezvani and the team at the Sentara Weight Loss Surgery Center, a designated Accredited Center by the Metabolic and Bariatric Surgery Accreditation and Quality Improvement Program (MBSAQIP). Her insurance said it would pay for the procedure, but Turner would have to undergo testing and complete a six-month dietary weight loss class.
After the class was completed, the insurance company gave the okay. Because Becky was a diabetic with an insulin pump, the decision was made to perform a Biliopancreatic Diversion with Duodenal Switch, also known as BPD-DS, using minimally invasive robotic surgery. Dr. Rezvani is one of the only gastric bypass surgeons in Northern Virginia who performs this complicated procedure.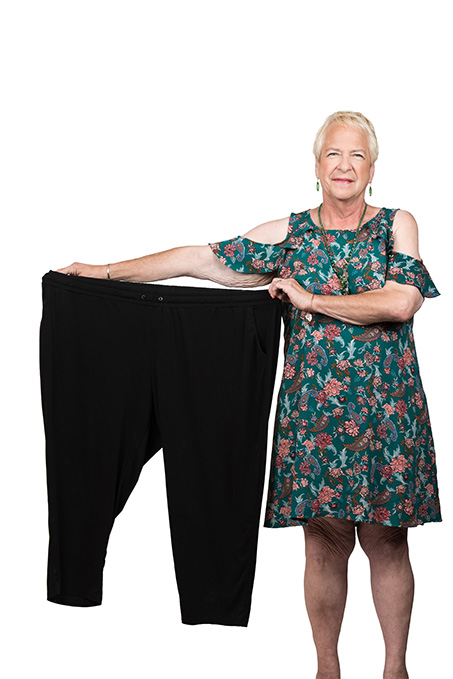 "It's very important to have the right procedure for the right patient," explains Dr. Rezvani, "Every individual is a different package. Based on the patients' age, gender, body mass index, past medical history, past surgical history and goal of the operation, it's going to determine what works best."
In a BDP-DS operation, doctors reroute the intestines, which cuts back on how many calories a patient can absorb. As a result, patients feel less hungry, lose most of their excess weight within one year and keep the weight off, all while having significant health improvements.
"This surgery isn't for everyone," Dr. Rezvani says, "It requires a lot of maintenance. Not only is there a weight loss, there's a metabolic effect which helps patients with conditions such as severe diabetes, sleep apnea and high blood pressure."
For Becky, who was having issues managing her diabetes, it was a good fit. Her main concern going into her September 2017 surgery wasn't the procedure, but the pain that could accompany it. It was something doctors worked with her to manage. "Actually, I never had the first bit of pain," she says, "I don't know if I'm the exception to the rule, but it was a good experience for me all the way around. Everyone was wonderful to me. All the nurses just went out of their way to be nice. I just adore Dr. Rezvani."
Three months after surgery, Becky had lost 92 pounds and dropped more than three sizes. It inspired her to keep going, "I was shocked it was coming off as quickly as it did. Plus, I was starting to feel better, my constant pain was easing."
Becky slowly started getting her diabetes under control, first by going off her insulin pump and then taking insulin shots just twice a day. By June 2018, Becky had celebrated a birthday and was enjoying a new lease on life. "I feel wonderful! I've got my life back," says Becky smiling.
To date, Becky has lost 162 of her 160 pound goal. She's excited to share how times have changed, "The most awesome thing for me, I've been able to walk and get around. One of my favorite things in the world to do is go to the Occoquan Festival. I haven't been able to go for three or four years because I couldn't stand long enough. I went this year and had a blast!" This is just the latest in a year of change for the Prince William County resident.
At her heaviest, Becky weighed 330-pounds. She had trouble getting around. She was in constant agony because of debilitating back pain and a bad knee. "I owe my life to Dr. Rezvani," says Becky.
For Becky, the procedure and aftermath have been textbook perfect, "I've never been sick, there are a couple of things that are a little harder for me to eat than others, but I just never had any pain. Everything else I hear people complain about, I never had. I don't know why."
In addition, Becky shares her diabetes is now controlled without insulin. She's able to be move active with her rescue pups, "Penny" and "Peanut." Plus, she has a new job which she loves.
"I felt like for the last few years I had a black cloud hanging over my head. I'd take one step forward and 10-steps back. It just felt like nothing ever seemed to work out for me. I wasn't happy in my job. Wasn't happy with myself. And now, I love my life!"
Becky is feeling better every day, her biggest challenge now is keeping up with clothing. By the time she buys something, it's too big. When asked if she would recommend this surgery to others, her answer is a resounding yes, "Go for it! It changed my life and it will change theirs too. I tell everyone I talk to about this. It's because of my surgeon that I didn't have any pain and everything is so wonderful!"

Meet Dr. Rezvani and learn more about weight loss surgery at the next in-person weight loss information session on March 9, 2019 at 10:30, Homewood Suites by Hilton in Woodbridge, VA. Click here or call 1-800-SENTARA to register.