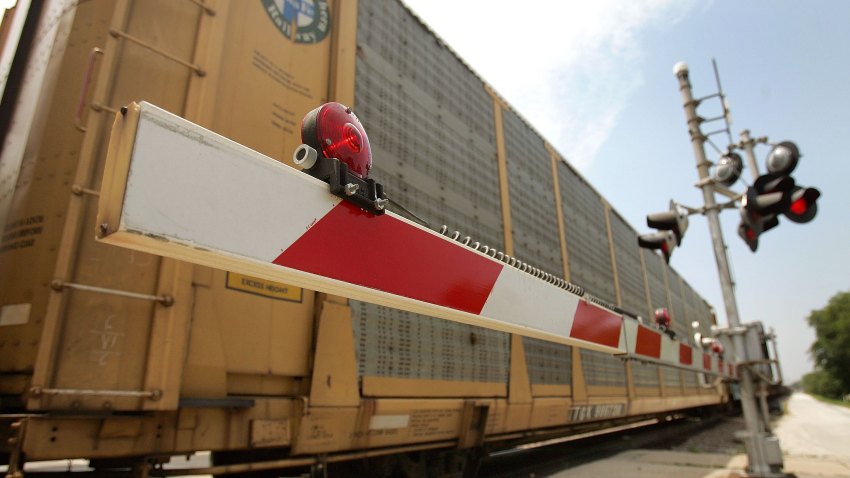 A Montgomery County neighborhood will finally trade dozens of daily blasts from a train horn for the sound of silence.
Almost 60 trains a day pass through the road and rail intersection. That's a lot of whistles. Neighbors have been begging for an end to it for years. They are finally getting it.
Ervin first wrote to the State Highway Administration (SHA) in October 2008 to convey residents' concerns. She was eventually able to get state and federal regulators to agree to the Quiet Zone. County officials note that FRA accident reports show there have been only three vehicle-train crashes at this location in the last three decades. Two of the three crashes (in 1977 and in 1985) involved a vehicle driving around the lowered automated gates. The third accident (in 2000) consisted of a backhoe being struck while working on the tracks.
Still, the FRA cannot designate an area as a Quiet Zone until specific safety improvements are in place to provide the same calculated level of accident risk reduction as a train locomotive horn.
"Safety is paramount at train crossings, and locomotive engineers still have the discretion to use their whistles, even in a Quiet Zone, " Ervin said.
In terms of the required safety improvements, the county has added protection for pedestrians, bicyclists and drivers. Lighting and signage near the Quiet Zone have been enhanced. In addition, the County installed new lights above the tracks. A median barrier was installed to keep cars from going around the gates that are deployed when a train is coming. The County's Department of Transportation is planning to put a sidewalk on either side of the tracks to make the area more walkable.
News of the Quiet Zone could make residents of a northeast D.C. neighborhood somewhat wistful. They have complained in recent weeks about being plagued by train whistles at all hours.
FRA safety regulations require that Amtrak test the horns on all 74 of their electric motors, at high and low decibel levels, to ensure the horns are audible. The tests have been conducted as the trains come into the Ivy City yard in the 1200 block of W Street Northeast. In response to neighborhood complaints about pre-dawn awakenings, Amtrak has limited the testing hours to Monday through Friday, from 4 p.m. to 10 p.m.
The tests will probably be finished by Jan. 1, said Amtrak spokeswoman Barbara Petito.