A year after the powerful Women's March on Washington, women are set to march on the National Mall again Saturday.
The "March on the Polls," sponsored by March Forward Virginia, will urge women to take an active role in elections in 2018. Organizers said the focus this year is to encourage women to persist in building their political power.
"The past year featured an historic number of women engaging in the political process, including running for office, and it is vital that women and their allies continue to take an active role in 2018 elections," a Facebook page for the event says.
Virginia Sen. Tim Kaine is scheduled to speak at the march, along with National Organization of Women president Toni Van Pelt and Feminist Majority Foundation president Eleanor Smeal.
Women's March on Washington Takes Over DC
The Women's March on Washington -- the organization behind the 2017 march -- will hold a national event Sunday in Las Vegas. Events all over the country are inspired by the 2017 march but not formally affiliated with the organization behind it, a Women's March on Washington spokeswoman said.

The anniversary march is set to begin at the Reflecting Pool in front of the Lincoln Memorial at 11 a.m. Saturday. There will be a rally with several speakers, followed by a march to the White House about 1 p.m.
D.C. police said there will be a temporary road closure of 17th Street Northwest from Constitution Avenue and H Street. There may be some rolling road closures as warranted.

Permits for the event are pending, National Park Service spokesman Mike Litterest said. The group requested to hold an event on the steps of the Lincoln Memorial, near the Reflecting Pool, from 9 a.m. to 1 p.m.
March Forward Virginia asked participants to RSVP here.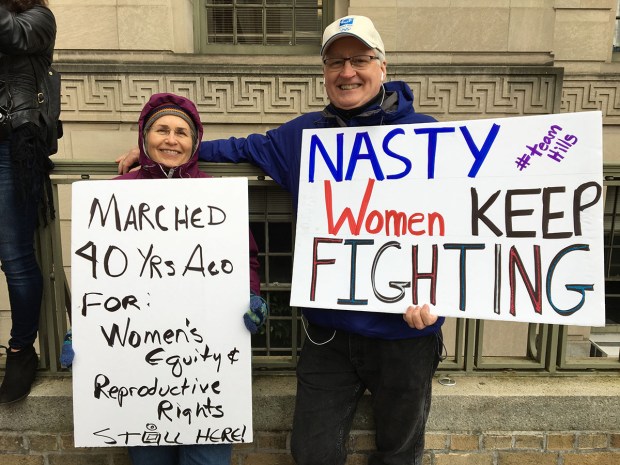 Signs Spotted at the Women's March on Washington

Scores of women attended the 2017 march the day after President Donald Trump took the oath of office. The march highlighted racial and political rifts, in addition to women's, reproductive and LGBTQ rights.
CORRECTION (Jan. 12, 2018, 4:20 p.m. ET): This story has been updated to clarify that the Washington, D.C. march set for Jan. 20, 2018 is inspired by the 2017 Women's March on Washington but organized by March Forward Virginia.

Women's March on Washington: What's Next?