Do you remember where you were when the East Coast earthquake hit? Today marks the second anniversary of the quake.
On Aug. 23, 2011, people from Georgia to Canada felt the ground shake as the 5.8-magnitude earthquake rocked the earth. While it wasn't the strongest, the quake was one of the largest in U.S. history.
The quake hit just before 2 p.m. and snarled traffic in the D.C. area into the evening. Following the quake, scientists recorded more than 600 aftershocks, including a 4.2-magnitude one felt inside the Beltway. The damage, estimated at more than $200 million, extended far beyond the epicenter in rural Louisa County.
Here in Washington, both the Washington Monument and the National Cathedral sustained serious damage and are still undergoing repairs.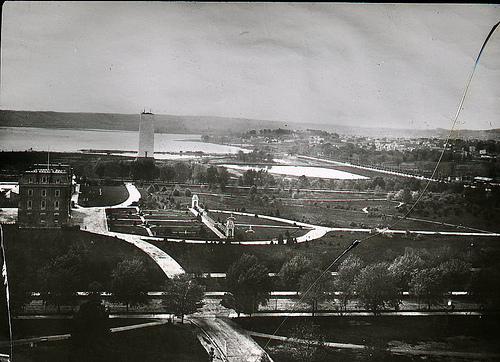 For much of the summer, a blue-gray "scrim" has covered the Washington Monument as crews fix the large cracks left at the top of the obelisk. The monument is slated to reopen in the spring of 2014.
Repairs are estimated to cost about $15 million.
Meanwhile, officials say repairs to the National Cathedral's ornate spires and finials will take 10 years to complete.
So far, the cathedral has raised $10 million of the $26 million needed to finance the repairs.
The earthquake also damaged two schools in Louisa, Va. The Federal Emergency Management Agency eventually awarded Louisa County High School and a Louisa County elementary school $19 million and $3.2 million, respectively, to help them rebuild.
Earthquake drills are now as ubiquitous as fire drills at the county's schools, where 4,600 students were attending classes when the quake struck nearby. No one was seriously hurt.
The quake didn't just change the way schools prepare their students for such an event, it changed how emergency personnel respond. Some states subsequently enacted laws specifically related to the quake.
Virginia, Maryland and the District of Columbia revised their emergency planning documents to include earthquakes. The response of many East Coast residents -- many of whom fled high-rise buildings -- went counter to the behavior recommended by experts during a quake.
But could the region experience another strong earthquake in the future?
According to the U.S. Geological Survey, much of central Virginia has been labeled for decades as an area of elevated seismic hazard. But the 2011 quake was the largest known to occur in that seismic zone.
RELATED COVERAGE ON NBCWashington.com: