All United Continental flights in the U.S. were grounded temporarily Wednesday due to computer problems.
Less than two hours later, United requested the Federal Aviation Administration lift the ground stop order, FAA spokesman Lynn Lunsford said.
The Federal Aviation Administration issued the ground stop alert due to an "automation issue."
About 3,500 flights were affected, NBC News reported.
United said delays could linger throughout the day.
Delays Expected After United Airlines Flights Grounded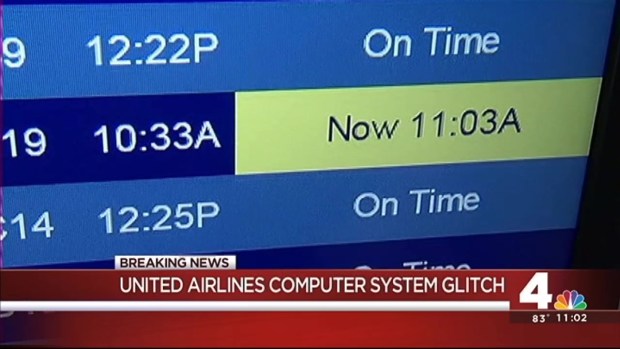 "We are recovering from a network connectivity issue this morning and restoring regular flight operations," United Airlines said in a statement. "We will have a waiver available at united.com for customers who are able to change their flight plans."
The change fee and any difference in fare will be waived for new flights departing between July 8, 2015 and July 10, 2015, as long as travel is rescheduled in the same cabin (any fare class) and between the same cities as originally ticketed.
For wholly rescheduled travel departing after July 10, 2015, or for a change in departure or destination city, the change fee will be waived, but a difference in fare may apply. Rescheduled travel must be completed within one year from the date when the ticket was issued.
It is the second time in two months that the Chicago carrier has been hit by major technical issues.
United Continental Holdings Inc. had a temporary halt to all takeoffs in the U.S. on June 2 because of what the airline said were computer automation issues.
Several passengers took to Twitter to express their frustration.
Breaking: @United Airlines has suffered a system wide computer system crash that has paralyzed all flights at every airport. #united#travel

— W Patrick Wilson (@DUhockeyFan) July 8, 2015
Oh fun - all of @united's computer systems are down. The entire airline is apparently grounded.

— Robert Quigley (@robquig) July 8, 2015
For those flying on @united - there is a NATIONWIDE GROUNDSTOP for United. Don't get out of bed if you're flying United. @nbcchicago

— Habeeb (@WickerParkGuy) July 8, 2015
It was not immediately clear what caused the issue.
Check back for updates in this breaking news story.