A grandfather headed home from work and a driver who crossed into opposing traffic died Tuesday after they were involved in a three-car crash in Gaithersburg, Maryland, police say.
George Thomas Carey, 67, of Laytonsville, died after his car was hit head-on. Stephen Diaz, 27, of Gaithersburg, also died. Police believe Diaz caused the crash just days before Thanksgiving.
Carey was driving home from his job as a computer consultant for the FBI when the crash occurred, his daughter, Stefanie Nicolosi said. He took Metro from D.C. to the Shady Grove station and began the 15-minute drive to Laytonsville.
"He called to say he was leaving at 6:30 and by 10:30 he wasn't home," she said.
Two Killed in Montgomery County Crash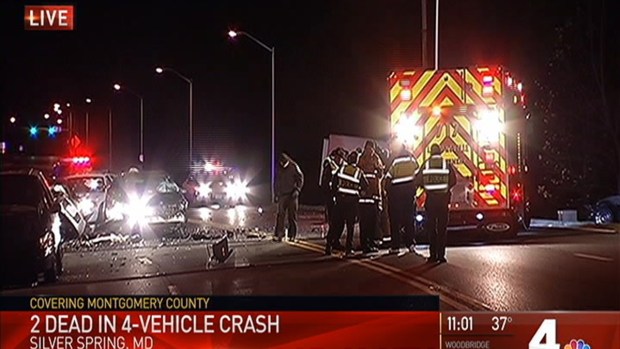 An off-duty Montgomery County police officer came upon the mangled cars on Airpark Road about 7:50 p.m.
According to the preliminary investigation, Diaz's 1999 Honda Civic was headed east on Airpark Road when the car crossed into westbound lanes.
The Civic crashed head-on into Carey's 2002 Volkswagen Passat and a 2010 Toyota Prius being driven by a 25-year-old man. Diaz was ejected from the car. He appeared to have not been wearing a seat belt, police said.
A fourth car, a 1997 Mercury Villager being driven by a 65-year-old, hit Diaz.
Carey and Diaz died at the scene. The other two drivers declined medical treatment.
The investigation is underway.
"Investigators are looking at many things, to include speed," Montgomery County Police Department spokesman Capt. Paul Starks said.
Carey was the father of four adult children and a grandfather to five children.
"He fiercely loved his family, and that I know without a doubt, and I hope that all of his children and family members know that about him as well," his daughter said.
She said her family would feel great sadness during the holiday season.
"Life is fleeting, and you have to cherish what you have," Nicolosi said.
Diaz also was a father, according to a GoFundMe page started by his family. As of Tuesday evening, the page had raised more than $3,100 toward a goal of $8,000.
Capt. Tom Didone of the police department's accident reconstruction team advised drivers to slow down and to buckle up.
"You have to wear your seat belt every trip, every time. A lot of these crashes, people could walk away, except for the fact that they don't wear their seat belt," he said.
Anyone with information on the crash is asked to call police at 240-773-6620.