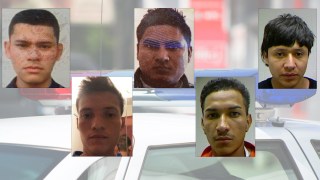 Police say two men were arrested and four others are wanted for the death of a 26-year-old man whose body was found in a dumpster.
According to Manassas City Police, the body of Cesar Benjamin Contreras was found in a bin next to Baldwin Elementary and Osbourn High School on Nicol Lane.
The cause of Contreras' death was multiple stab wounds, the state Medical Examiner's office said.
Police believe the six suspects in Contreras' death may be connected with a gang.
Ludwig Mena Romero, 20, of Manassas and Jose Rafael Ramirez Lopez, 19, of D.C. have been arrested on murder charges this week and are behing bars without bond.
Police are still looking for Juan Francisco Guevara, 24, Mario Portillo, 25, Argenes Sandoval, 22, and a 17-year-old boy in connection with Contreras' stabing death.
Manassas City Police are asking residents who have information about the case to call the Investigative Services Division at (703) 257-8092 or Crime Solvers.
Manassas City Crime Solvers will pay a reward of up to $1,000 for information that leads to an arrest. The confidential 24-hour tip line is (703) 330-0330.
Published at 5:44 PM EDT on Aug 20, 2014 | Updated at 5:53 PM EDT on Aug 20, 2014