The luxury hotel Donald Trump built in an iconic downtown Washington building has opened its doors.
The Trump International Hotel, Washington, D.C., began serving guests Monday. The hotel opened about 2 p.m., as workers put on the finishing touches. The website for the 260-room hotel lists rates beginning at $396 per night, before taxes and fees.
There was not much fanfare around the opening Monday. Grand-opening ceremonies are planned for October.
Trump Luxury Hotel Opens in DC
Trump sent out a tweet promoting his new hotel Monday but did not make a public appearance there.
Stopped by @TrumpDC to thank all of the tremendous men & women for their hard work! pic.twitter.com/oGcJL4N454

— Donald J. Trump (@realDonaldTrump) September 12, 2016
"Stopped by @TrumpDC to thank all of the tremendous men & women for their hard work!"
A group of people protested the opening of the hotel for much of the day by chanting and holding signs. "Immigrants & Muslims are welcome here -- Trump Hotel is NOT!" one banner said.
A smaller number of people held signs in support of the GOP candidate, including a man with a sign that said "USA for Trump."
A woman who had applied for a job at the hotel was in the passing crowd outside.
"Mr. Trump, if you're looking, hire me. I'm your woman!" job applicant Andrea Reid said.
The Trump Organization won a 60-year lease from the federal government to transform the Old Post Office building on Pennsylvania Avenue into a hotel. The building first opened in 1897 but was largely deserted after a failed bicentennial makeover.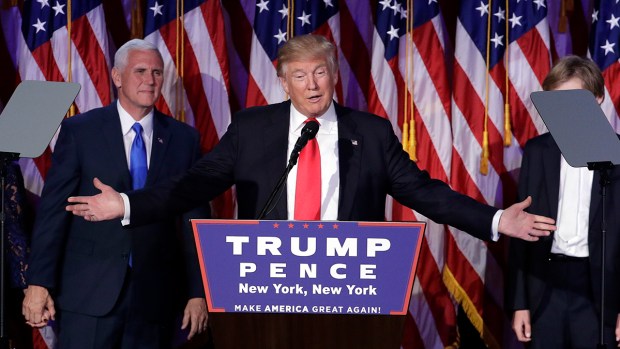 Highlights From the 2016 Campaign Trail
Trump broke ground on the renovation before he entered the presidential race, boasting that it would be one of the finest hotels in the world. After he launched his campaign, two highly regarded chefs backed out of plans to open restaurants in the hotel because of Trump's comments about Mexican immigrants.